Lord Carson Filly Sets Workout Record at Barretts; McMahon Optimistic About Tuesday's Sale
by Deirdre B. Biles
Date Posted: 3/1/2004 6:57:20 PM
Last Updated: 3/2/2004 7:22:13 PM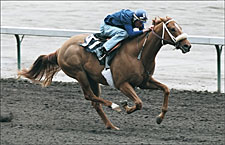 Record-setting Lord Carson filly.
Photo: Dwayne Loo

A

Lord Carson

filly blazed an eighth of a mile in 9.7 seconds Monday at Fairplex Park in preparation for the Barretts March select sale of 2-year-olds in training. The time is believed to be a North American record, and possibly a world record, for a juvenile auction work. The second and final under tack show for the Barretts sale had been postponed from Sunday because of the noise and traffic congestion from a major drag racing event nearby, which had been rescheduled from February because of rain.Interestingly, the swift filly's hip number is 97. John Brocklebank and Shane Chipman's Utah-based B.C.3 Thoroughbreds is her consignor as agent for Timberline. She had worked an eighth in :10.1 during the auction's first under tack show last Tuesday."It wasn't really a surprise that she went fast today," Brocklebank said. "But anytime they go 9.7, I don't think you ever expect that. She certainly had been training well, and I think we would have been a little disappointed if she didn't step forward from last week."Brocklebank purchased the chestnut filly for $37,000 at last year's Ocala Breeders'Sales Company August yearling auction. She is out of the 9-year-old unraced Storm Bird mare Storm Struck and is from the family of Canadian champion Queen Louie and grade I winner Perfect Soul. "Being by Lord Carson, she was a bigger and 'stretchier' filly than I would expect," said Brocklebank of his standout's appearance as a yearling. "He usually gets a little more of a muscular kind of horse that is not as 'scopy' as this filly is." The skies were cloudy, but the rain held off for the most part until after the under tack show was finished. That was a relief to consignors because the first show had been postponed a day because of wet weather and the track was still off when the horses started their works. Several consignors described the surface that day at the Southern California oval as sticky. The fastest times were :10.0 for an eighth and :22.3 for a quarter."When you can represent your product fairly it's an even playing ground, and we got that today," said Becky Thomas of Sequel Bloodstock.A Swiss Yodeler colt named Swissle Stick was the fastest worker at a quarter of a mile, covering the distance in 21 seconds flat. He had worked an eighth in :10 2/5 during the first under tack show. Produced from the unraced Siyah Kalem mare Miss Soft Sell, the colt is a half-brother to stakes winner Don'tsellmeshort (by Benchmark).Florida pinhooker Terry Oliver purchased the chestnut colt for $70,000 at the 2002 Keeneland November breeding stock sale. Ciaran Dunne's Wavertree Stables is the colt's consignor, as agent, at Barretts.The Barretts sale begins at 2 p.m. (PST) Tuesday at Fairplex in Southern California. The catalogue includes The Thoroughbred Corp.'s dispersal, which has more than 50 head, most of them older horses."I'm optimistic," said Jerry McMahon, Barretts' president and general manager. "The show (Monday) went very well. The track was really safe and in great condition. A lot of horses did fine the first week, but horses in many cases today were able to train better."We have a really good group of buyers here. Now they've got to go around the sale grounds and figure out which horses they want."Barretts has fewer 2-year-olds on offer this year than last year. There are 175 head catalogued outside of The Thoroughbred Corp.'s dispersal."There weren't lot of select 2-year-olds around this year," McMahon said. "It wasn't as easy to find good horses because of MRLS (mare reproductive loss syndrome) and the strong yearling prices that made it hard (for pinhookers) to compete for them. If we had gone any deeper, we would have been taking May horses (ones more suited to Barretts' non-select sale that month)."



Copyright © 2015 The Blood-Horse, Inc. All Rights Reserved.