'Seabiscuit' Trampled by 'Lord of the Rings'
by Blood-Horse Staff
Date Posted: 3/1/2004 12:28:14 AM
Last Updated: 3/1/2004 6:45:21 PM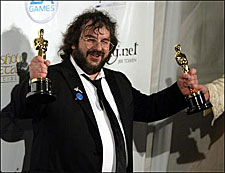 Peter Jackson, director and screenwiter of 'The Lord of the Rings: The Return of the King,' holds up Oscar awards for best director and best picture.
Photo: Associated Press

Seabiscuit handled War Admiral, but he was no match for "Lord of the Rings." In the 76th Academy Awards Feb. 29, "Seabiscuit" – the film adaptation of Laura Hillenbrand's best seller – was shut out in the seven categories for which it was nominated.Six of those awards, including "Best Picture," went to "Lord of the Rings: The Return of the King," which won all 11 of the Oscars it was nominated to receive. The other award, for cinematography, went to "Master and Commander: The Far Side of the World."Besides those two categories, "Seabiscuit" was also nominated for art direction, costume design, sound mixing, adapted screenplay and film editing.



Copyright © 2015 The Blood-Horse, Inc. All Rights Reserved.