'Peace' Prevails in Battle of New Orleans
by Jack Shinar
Date Posted: 2/29/2004 7:09:49 PM
Last Updated: 3/3/2004 2:44:38 PM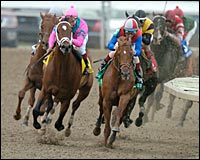 Peace Rules, right, takes the lead at the top of the stretch in the New Orleans Handicap.
Photo: Alexander Barkoff

Peace Rules proved to be the toughest in Sunday's controversial Fair Grounds rodeo, also known as the $500,000 New Orleans Handicap (gr. II).The gritty son of Jules, ridden by Jerry Bailey for trainer Bobby Frankel, battled back from the inside when it appeared that Saint Liam had his measure with a sixteenth of a mile ago. The winner of last year's Haskell Invitational (gr. I), Blue Grass (gr. I) and Louisiana Derby (gr. II) prevailed by a short head in a desperate stretch run. Stewards immediately lit the objection sign after Edgar Prado, aboard Saint Liam, complained about Bailey's tactics. But after reviewing the stretch run, in which there was considerable bumping, as well as a chain reaction incident heading into the first turn that all but eliminated Sir Cherokee and Ten Most Wanted, there was no change to original order of finish."I really thought (Saint Laim) initiated it," Bailey said of the rough stretch run. "He leaned in and bumped me a couple of times."Prado countered, "At the eighth pole, he bumped me twice. Jerry was hitting him left handed, so I claimed (foul) because I felt it bothered him. With the close finish, a little bumping can make a difference."The final time for the 1 1/8-mile event was 1:48 3/5 on a fast track. Funny Cide finished third, about 2 3/4 lengths behind Saint Liam. Favored Seattle Fitz was another 1 1/4 length behind in fourth.In the first mishap, Peace Rules broke quickly while attempting to clear the field and get position at the rail before entering the first turn. It appeared Peace Rules may have cut it a little close and Saint Liam, in tight, failed to negotiate the turn cleanly while averting clipping heels, colliding with Sir Cherokee, who was carried out and banged Ten Most Wanted off stride and extremely wide. Peace Rules led through the turn and opened up by two lengths over a recovered Saint Liam on the backstretch as Funny Cide and Seattle Fitz tracked as a team in third and fourth. The fractions were solid – :23 3/5, :47 and 1:10 2/5. At the top of the stretch Saint Liam challenged on the outside and edged by Peace Rules with an eighth of a mile to go. At the sixteenth pole, Bailey switched his whip to the left hand, and as he urged Peace Rules frantically in deep stretch, the horse gradually responded, reclaiming the advantage in the final strides. A head-on replay appeared to show St. Liam coming in at the same time Bailey switched to the left-handed stick."I thought he ran real well," Frankel said of Peace Rules. "(Bailey) wasn't using him to go that fast, so as long as he was comfortable. He likes this racetrack, that's for sure. I think the horse was in his comfort zone and that's when he's tough. To be honest, I thought he was beat at the eighth pole, but he showed his gameness. He was giving the other horse six pounds, so I was concerned. He's fond of this racetrack, obviously. This is a great race track.
           
"I love winning. When I stop liking this, I should quit."Peace Rules became only the second horse in the history of Fair Grounds to win the Louisiana Derby and New Orleans Handicap in successive years. Master Derby accomplished the feat in 1975-76.The roughly run first turn also affected Funny Cide, who bumped with Spanish Empire while attempting to escape the rail. The Kentucky Derby and Preakness (gr. I) winning gelding was able to settle off the rail while tracking the leaders, moving up into contention on the far turn. While he lacked the needed response to catch Peace Rules and Saint Liam, he finished gamely to defeat Seattle Fitz."I think he's coming back around, but I was looking for a little more than that," trainer Barclay Tagg said of Funny Cide. "I don't know anything else but to keep training him."The Florida-bred Peace Rules, who was coming off a disappointing fourth-place finish as the even-money favorite in the Sunshine Millions Classic at Santa Anita Jan. 24, ended a three-race losing streak. He won for the third time in four starts at the nine-furlong distance and is a perfect two-for-two at Fair Grounds."The last time in California, I tried to rate him, but he did not like that," Bailey said. "So today, I let him do what he likes, make the lead, and he was very comfortable through the whole race. I figured I'd let him run at his own pace no matter how fast or slow he was going, and we won."
 
Peace Rules earned $300,00 for owner Edmund A. Gann with his seventh win in 15 lifetime starts. He boasts career earnings of $2,439,990.Seattle Fitz, the narrow 5-2 favorite over Ten Most Wanted, saved ground at the rail for John Velazquez, but lacked much punch in the lane. Ten Most Wanted, 2003's Travers (gr. I) champion who was making his first start of the year, was able to get to the inside after being knocked wide on the clubhouse turn, but failed to respond in the stretch for jockey Pat Day. He finished fifth, followed by Sir Cherokee, Spanish Empire and Comic Truth."The bump in the first turn that carried him wide seemed to bother him the whole race," Day said. "I urged him down the backside and he responded a little, but he never found his stride. If I can ever figure out how to get around that first turn we'll be in great shape.  After that, he was out of the bridle a bit."The third choice in the field of eight, Peace Rules paid $9.20, $4.60 and $3.60. Saint Liam returned $6.20 and $5. Funny Cide's show was $4.60. The $2 exacta was worth $77.80.(Chart, Equibase)



Copyright © 2015 The Blood-Horse, Inc. All Rights Reserved.