Twelve-second Splits: Pre-Derby Performance
Date Posted: 2/27/2004 2:26:00 PM
Last Updated: 3/26/2004 3:07:05 PM

By Dick Downey
TheDowneyProfile.comIn our last story, we demonstrated that splits close to 12 seconds per furlong are usually employed to win the Kentucky Derby.  In this installment, we examine pre-Derby splits of the last 10 winners.We must start out by keeping in mind the obvious fact that each of the preps is run at a shorter distance than the mile-and-a-quarter Derby.Nevertheless, eight of these 10 winners ran within one second of a 12-second average furlong in the first half-mile of their final Derby prep.  Only Silver Charm (:45 on a fast Santa Anita Derby surface) and Thunder Gulch (:49 1/5 in the Blue Grass Stakes, where he was fourth), deviated.  However, Thunder Gulch had gone :47 3/5 in the Florida Derby, which he won by a nose prior to his Blue Grass Stakes flop.The six-furlong times were not as consistent.  Four of them were run under 1:11 (two of those at Santa Anita, one on wet-fast track, and one in a 1 1/16 mile race), and one was over 1:13 (Thunder Gulch again--but he went 1:11 3/5 in the Florida Derby).  The other five were between 1:11 and 1:11 3/5.  In nine out of 10 cases, then, the eventual winner went the first six furlongs in under 1:12 in the final prep race.Seven of the 10 winners were on the "12-second furlong" mark at a mile--or 1 1/16 mile in the case of Charismatic's Lexington Stakes.  Of the three who weren't in the range, we again must note that in the Florida Derby,  Thunder Gulch went the mile in 1:36 4/5. Looking at the entire 10-year study, the eventual Kentucky Derby winners ran splits close to 12 seconds per furlong in their final Kentucky Derby prep in two-thirds of the calls we examined, in spite of the fact that all of those races were at least 1/8 mile shorter than the Derby.And 87 percent of those calls yielded splits that were either within our 12-second range, or under it.We conclude with a side note that eight of these 10 winners ran either first or second in a major prep race that we utilize as one of 14 factors in trying to predict the Kentucky Derby winner at TheDowneyProfile.com.*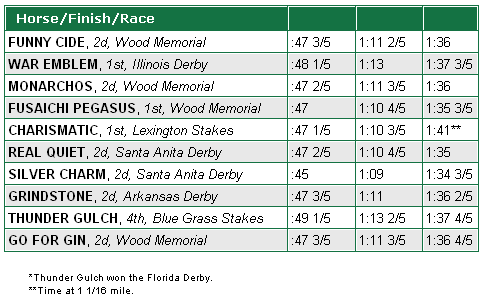 Copyright © 2015 The Blood-Horse, Inc. All Rights Reserved.