NTRA Hires Security Chief, Extends Some Contracts
by Blood-Horse Staff
Date Posted: 2/26/2004 3:59:57 PM
Last Updated: 2/27/2004 1:39:34 PM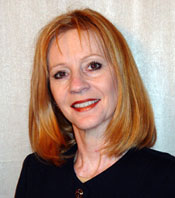 NTRA Wagering Security Director Sharon O'Bryan.
Photo: NTRA

The National Thoroughbred Racing Association has hired a director for its National Office of Wagering Security, and also approved multi-year contract extensions for commissioner Tim Smith and vice chairman D.G. Van Clief Jr., who serves as Breeders' Cup president.The NTRA, during a Feb. 26 board meeting in Florida, appointed Sharon O'Bryan, former senior vice president and head of technology risk management for the leading international banking company ABN AMRO, to be wagering security chief. O'Bryan will begin April 1 and be based in Lexington.O'Bryan will assess the industry's security systems and recommend cost-efficient methods for improvement. Also, the national office will develop wagering security Model Rules in coordination with regulatory and trade associations such as the Thoroughbred Racing Associations, North American Pari-mutuel Regulators Association, and Association of Racing Commissioners International. In a release, Smith said O'Bryan's "cyber-security expertise and overall IT expertise will serve horseracing well.""The major security challenges for the international banking industry secure management of data flow and proprietary information in real-time from multiple sources--are not dissimilar to the challenges of the pari-mutuel wagering system," O'Bryan said the release. "I look forward to working with the tracks, their technology providers, and the regulatory authorities to make the environment for electronic wagering as secure as it can be."O'Bryan was senior vice president, chief information security officer, and chief privacy officer at ABN AMRO in Chicago from 1999-2003. ABN AMRO Bank N.V. is the largest foreign bank in the United States based on total assets. Based in the Netherlands, it operates more than 3,400 offices in 76 countries with offices in 15 North American cities.The NTRA in its release on the board meeting didn't say how long the contracts of Smith and Van Clief were extended. In other business, the board of directors approved NTRA participation in a "multi-faceted industry study plan" that will address rebates, piracy, and betting exchanges, among other things that impact pari-mutuel wagering.The board also approved a final 2004 operating budget with operating revenue of about $66.9 million, including $32.75 million in Breeders' Cup revenue; a $2-million Breeders' Cup annual allocation from investment revenue; $16.97 million in membership dues; and $15.21 million in television, sponsorship/purchasing, and promotions revenue, up 40% increase from 2003.Operating expenses are projected to be $66.5 million, including $10.47 million for television; $8.09 million for sponsorship/purchasing; $19.31 million for marketing; $1.25 million for legislative and regulatory; $5.58 million for general and administrative; a $500,000 contingency fund; and $21.19 million in purses and awards.Non-operating income is projected at $180,000. Special contributions of $253,500--expenses related to the Wagering Integrity Alliance and start up of the National Office of Wagering Security--are forecast, for a projected 2004 surplus of $400,000, net of extraordinary expenses.



Copyright © 2015 The Blood-Horse, Inc. All Rights Reserved.