On This Day...
Date Posted: 2/25/2004 4:54:36 AM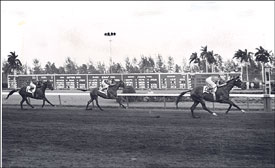 Needles in the Flamingo.
Photo: Hialeah/Frutkoff

Feb. 25, 1956
Needles in the Flamingo StakesThe conditions for the Feb. 25 Flamingo Stakes were: $100,000 added, 3-year-olds, special weights, weight 122 pounds, Flamingo Cup to winning owner. So why did Needles carry only 117 pounds?Needles was a Florida-bred, and state-breds were allowed five pounds in the Sunshine State. The second-betting choice in the 1 1/8-mile race, Needles defeated Golf Ace, with Fabius third. Needles, as The Blood-Horse reported, didn't really need the weight reduction."The point should be made emphatic, however, that the five pounds in Needles' favor in no way clouded his victory in the 27th running of the Flamingo. He bested his nearest rival, Winding Way Farm's Golf Ace, by almost three lengths, while Calumet Farm's Fabius, which had hung, was another 1 3/4 lengths back. At the finish Needles was moving easily, increasing his margin over all 14 rivals with every stride."Needles, who raced for Jack Dudley and Bonnie Heath's D & H Stable, received five pounds in the March 24 Florida Derby at Gulfstream Park and won in track-record time. In the Kentucky Derby, he carried what every horse carried, 126 pounds, and scored over Fabius. He was second to Fabius in the Preakness and came back to win the Belmont Stakes.



Copyright © 2015 The Blood-Horse, Inc. All Rights Reserved.