Curious Activities
by Ray Paulick
Date Posted: 12/5/2000 8:54:57 AM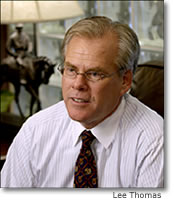 Ray Paulick
Editor in Chief


Far be it for a country bumpkin in Kentucky to understand the politics of racing in a place like New Jersey, but I try, and there are some things going on there that just do not make sense to this simple mind. For example, the New Jersey Racing Commission recently sent a cease and desist letter to three out-of-state companies that accept pari-mutuel wagers from New Jersey residents via personal computer, whether via a closed-loop system or the Internet. Frank Zanzuccki, executive director of the commission, said the letter was sent after he received legal advice that it is against the law for New Jersey residents to place an online bet. The legal advice also concluded any company taking online wagers from a New Jersey resident also is violating the law. Nothing confusing about that. The racing commission also was advised that the state constitution makes it illegal for New Jersey residents to place a bet by telephone. Likewise, Zanzuccki said, the commission was told that companies taking wagers by telephone from New Jersey residents also are in violation of the law. There are a number of tracks and off-track operators soliciting business in New Jersey, including the New York Racing Association, New York City OTB, Penn National, Ladbroke, and Philadelphia Park. So far, however, the New Jersey commission has not sent a letter to any of the companies with account holders in New Jersey, even though Zanzuccki said, in no uncertain terms, it is against New Jersey law for those companies to accept telephone wagers from New Jersey residents. No legislation was passed recently to make telephone and Internet wagering illegal, Zanzuccki said. The issue just came up when he said the racing commission "discovered" that some people residing in New Jersey were betting through Youbet.com, an online company that facilitates wagering through Ladbroke in Pennsylvania. What's even more curious about this is that two of the out-of-state companies said to be violating the law by accepting telephone bets are licensed as racetrack operators by the New Jersey Racing Commission. Based in neighboring Pennsylvania, Greenwood Racing, owner of Philadelphia Park, is partners with Penn National in a venture known as Pennwood, which owns the Freehold harness track and leases Garden State Park. Pennwood asked the New Jersey commission for a live race meeting totaling just six days for Garden State Park in 2001, a request that was rejected. New Jersey horsemen have seen the number of live racing dates dwindle in recent years, and they opposed the Garden State application. Why has the New Jersey Racing Commission allowed Penn National and Greenwood to hold a license to own or operate a racetrack if those operations are, in fact, violating state law? Beyond the question of whether telephone betting by New Jersey residents is legal or not is the ethical issue of an out-of-state company poaching bets from another state's residents. Greenwood and Penn National are in position to exploit their presence in New Jersey. What is to stop Greenwood or Penn National from soliciting on-track customers at Freehold or Garden State to sign up for telephone wagering accounts? New Jersey horsemen get no source market fees for bets made by New Jersey residents through an out-of-state telephone account. The only account wagering company to have a fair, structured method of sharing revenue with horsemen in the state where the bettor resides is the TV Games Network. Especially curious was the New Jersey legislation, passed last year and later vetoed, which contained a provision that would have made it virtually impossible for TVG to gain access to the state. It's no secret that TVG is an enemy of Greenwood and Penn National. It makes a country bumpkin wonder: Who is running racing in New Jersey?



Copyright © 2015 The Blood-Horse, Inc. All Rights Reserved.