Equine Retirement Programs
Updated: Wednesday, February 25, 2004 8:14 AM
Posted: Tuesday, February 24, 2004 10:36 AM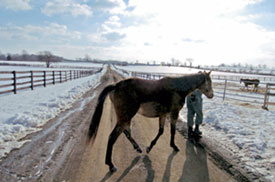 Photo: Skip Dickstein
The rescue, retirement, rehab, and retraining of ex-racehorses has grown into a major movement.
It is horse racing's dirty little secret--the big black truck that regularly rolls along the backstretch of tracks large and small, and behind sales rings, picking up the cripples, the too-slow, and horses just plain not wanted by their owners anymore. The long trip of tears ends at two foreign-owned slaughtering facilities in Texas and perhaps one scheduled to come back online in Illinois, with horse meat subsequently shipped to Europe for human consumption. Twenty-five years ago, a small group of concerned horse people decided to combat the fate of spent equines, becoming the pillars of an increasingly effective mini-industry that is saving and retraining more and more Thoroughbreds no longer fit for racing or breeding. Increasingly over the last five years, the effort to rescue ex-racehorses and train those eligible for second careers has grown from a handful of "horse-huggers" into a burgeoning movement with widespread support from nearly all corners of the industry. Passionate people concerned for the health of the horse, and willing to put their money and time on the line, have shone a light into the blackest corner of a sport that relies on magnificent animals only to abandon too many of them far too soon. Happily, these dedicated people have brought forth an opportunity for the sport and its individuals to feel good about doing the right thing by its equine athletes. "I knew what was going on, and I tried to shove it to the back of my head," said longtime breeder John Hettinger, who got involved in the retirement movement nearly four years ago. "Fighting slaughter is now the number-one priority in my life." Hettinger's Blue Horse Charities has participated in the adoption of some 4,000 horses over the past three years. Horse slaughter has been reduced, but not ended. Importantly, it is no longer a secret. The same people who have taken it upon themselves to find second careers or retirement paddocks for ex-racehorses have joined Hettinger in embracing a concurrent goal--to end the slaughter of horses in the U.S. for human consumption . In the past few years, sale companies have instituted minimum prices below which they will not sell horses, making it economically unfeasible for the "killers" to buy at auctions. The black trucks still patrol the racetracks, but now trainers and owners are aware that other options exist. They can just as easily call a rescue operation in their area, receive just as much money for their unwanted stock, and know they are doing the right thing by their animals. Although the system is not infallible--nearly 50,000 horses were slaughtered in the United States last year; 5,000 of those Thoroughbreds--and rescue operations cannot always get to barns in time, more and more horses are being saved every day. Awareness is increasing. And with awareness comes money. When a tragedy like Exceller being killed in Europe, or Ferdinand in Japan, hits the headlines, calls come pouring in along with checks. Converts are made. And a horse who would have once been on the long road to nowhere is now grazing in a field, or performing in other disciplines, or bringing unbridled joy to a disadvantaged boy or a young girl somewhere in North America. There are now dozens of nonprofit organizations nationwide that adopt and/or retrain horses, and untold numbers of mom-and-pop operations caring for equines in backyard paddocks coast to coast. Donations from several equine-exclusive charities, while not covering all costs, certainly assist in the business of rehabbing, retraining, and placing horses. Groups get medical discounts from local universities and clinics. A massive Internet-based databank to link horses with those wanting them is right around the corner. The people most involved in rescue feel an inevitability; that the pendulum is swinging decisively in their, and the horses', favor. The rescue movement has come a long way from its quirky beginnings.
Continued...
FREE! E-Newsletters from The Blood-Horse!...
Follow the top stories of major racing events, racing previews and results with FREE e-newsletters from bloodhorse.com. As news develops, we'll deliver updates to your inbox. Follow important events moment by moment, step by step!