On This Day...
Date Posted: 2/24/2004 1:28:50 AM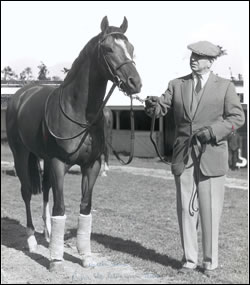 Northern Dancer with trainer Horatio Luro.
Photo: The Blood-Horse Library

Feb. 24, 1964
Northern Dancer at HialeahIt seemed absurd. Three colts--Northern Dancer, Chieftain, and Trader--running in a special weight race at seven furlongs Feb. 24 at Hialeah, with no purse and betting.But that's the way it was, with Northern Dancer finishing seven lengths in front of Chieftain, who had 2 1/2 lengths on Trader.Northern Dancer was ridden in that exhibition race for the first time by Bill Shoemaker. Trainer Horatio Luro had booted Bobby Ussury after the rider disobeyed orders and went to the whip in a Feb. 10 allowance race at Hialeah in which Northern Dancer ran third to Chieftain."I am very pleased with the way Shoemaker handled him," Luro said after the exhibition in which Northern Dancer won in 1:23 2/5, went a mile in 1:36 2/5, and pulled up after 1 1/8 miles in 1:50 4/5. "You will note that he never hit the horse."Northern Dancer, Canada's best 2-year-old of the previous year, remained at Hialeah to win the March 3 Flamingo Stakes on closing day. The even-money favorite, Northern Dancer stayed near pacesetter Mr. Brick through fractions of :22 4/5, :45 3/5, and 1:09 2/5 before taking over and registering a time of 1:34 3/5 for the mile. His final time, 1:47 4/5, was four-fifths of a second off Bold Ruler's track and stakes record set in 1957."The fractions bothered me," Luro said. "I knew my horse would get tired. He just played in that exhibition the other day, and I was not being cute when I said he might be short."Cute or not, short or not, Luro was certain he had a prime Kentucky Derby contender in his barn.



Copyright © 2015 The Blood-Horse, Inc. All Rights Reserved.