McAlpine Stresses Improving Outlook for Calif. Racing
by Jack Shinar
Date Posted: 2/19/2004 8:03:58 PM
Last Updated: 2/21/2004 3:12:40 PM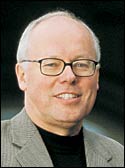 Magna CEO Jim McAlpine.
Photo: File

While business at Santa Anita Park and Golden Gate Fields is off in 2004, the president and chief executive officer of parent company Magna Entertainment Corporation told the California Horse Racing Board on Feb. 19 that the outlook is improving.During a 12-minute presentation to the CHRB at Arcadia City Hall, Jim McAlpine and new Santa Anita President Jack McDaniel briefly laid out some of their ideas to bring the grand old racetrack back from its decline of the past few years.McAlpine said that the numbers aren't much different than what the rest of the country is experiencing in racing. "Specifically, total handle is down," he said. "At Santa Anita, it is down 6 percent. At Golden Gate, it's down 7.8 percent."Sam Houston State Park recently reported big handle declines and Magna-owned Gulfstream Park is off 10% at its winter meeting, he added.But Magna is working to offset the slippage with innovative ideas such as the Magna Pick 5 wager, which was started in late January, McAlpine said. "At Santa Anita, we were down 14.9 percent (in handle) pre-Sunshine Millions (Jan. 24). Post Sunshine Millions, we're down 4.16 percent. On-track handle is down 1 percent year to date."Are we happy with the way things are going? Absolutely not," McAlpine said.But he noted there are a number of factors in the state -- including declines in field size, the ongoing workers' compensation insurance woes and one-third fewer carryovers -- that have exacerbated the drop in wagering activity."These are complex times and there are no easy answers," McAlpine said. "While we're not happy ... when you look across the country you realize this is not a California-only situation."He said the company is focused on re-allocating its marketing dollars toward more Sunshine Millions-type promotions and through television. Radio advertising for the track has been showing up on stations aimed at younger audiences to support its after-racing and weekend party and concert strategy at its new Santa Anita paddock terrace club, Sirona's."We're working to re-energize the customer base," McAlpine said. "We're working to achieve broader distribution of our racing on television through HRTV (Horse Racing Televison Network)." He added the network now has 1.5 million potential subscribers.McDaniel, who brings a background in entertainment marketing to Santa Anita, said the idea is to enhance the racetrack experience. He likened it to an amusement park needing constant changes and improvements to attract new customers. "We realize we've lost considerable ground with bringing our fans out to the track," he said. "But amusement parks know that they need to introduce something new every year."McDaniel said Santa Anita has made a number of improvements to its appearance and made strides in the audio/visual area, too. High-definition viewing monitors have been added at the new bar."If you haven't seen horse racing in high definition, I can tell you that it is absolutely incredible," McAlpine said.McDaniel said that such moves are designed to expand Santa Anita's appeal as a year-round destination.Commissioner Roger Licht said he was impressed with the changes. "I think the on-track experience at Santa Anita has been outstanding."McAlpine said Magna is experimenting with bet cards like those used in Las Vegas to register wagering activity of its patrons."The challenge is that once (potential fans) come out, do they come back?" he pointed out.Board chairman John Harris agreed. "I think the proof will be in the results," he said. "I think we need to see some benefits from (the changes). I mean you can put a McDonald's in the parking lot and it might draw tremendous business, but how much good would it do if they aren't being exposed to racing?"In other action, the CHRB approved an extension of the Capitol Racing Harness license application at Cal Expo Raceway in Sacramento through July 31. The board agreed to the extension after Capitol came to a tentative agreement with Los Alamitos in a longstanding dispute over simulcasting impact fees. In May, the CHRB had ordered the Harness racing operator to pay the Quarterhorse track and its horsemen fees for the impact of running a competing night meet on Los Alamitos' simulcast handle. Capitol subsequently sued the CHRB to stop enforcement of the order. While the case awaits judgement, expected later this year, Capitol agreed to forward $500,000 to Los Alamitos, allow Los Alamitos to continue to hold $1.4 million in simulcast revenue on Capitol races, and place a $1 million bond with the CHRB.



Copyright © 2015 The Blood-Horse, Inc. All Rights Reserved.