Hollywood Park Report: Bienamado Wins One For Dad
by Blood-Horse Staff
Date Posted: 12/2/2000 8:04:05 PM
Last Updated: 12/8/2000 4:17:25 PM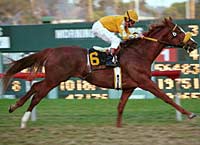 Bienamado, ridden by Chris McCarron, cruises to the wire to win the Hollywood Turf Cup on Saturday at Hollywood Park.
Photo: Associated Press/ Benoit Photo

For a man ordinarily accustomed to heading straight to the barn after a race--especially a race like the $400,000 Hollywood Turf Cup (gr. IT)--Paco Gonzalez was late. He had hobnobbed on the frontside long enough. Now, it was already dark. His horse had nearly cooled out. Walking with purpose toward the tow ring, Gonzalez unbuttoned his collar and shed his necktie. Presently he took the shank, and with carrots in one hand and a handful of leather in the other, he headed off into the crisp, foggy darkness. "He does it, win or lose," observed Buddy Anderson, a steadfast Gonzalez admirer and the barn's grade-I hotwalker. "It doesn't matter if it's a stakes or not. He's hands-on all the time. You just don't see that anymore. A dying breed, there." Alongside Gonzalez, half concealed beneath a lemon yellow blanket, strode Bienamado, a chestnut flame who for the past year has required every ounce of his trainer's meticulous approach. Hindered by a touchy knee when he arrived stateside last autumn, the homebred son of Bien Bien came out smoking when Gonzalez finally unleashed him in June. A pair of summertime blowouts over the Hollywood turf proclaimed the emergence of a star. An ankle soon flared up, however, and Bienamania was quelled when the 4-year-old colt fell apart as the favorite in August's Arlington Million (gr. IT). Shortly thereafter, Gonzalez sensed yet another problem. "At the beginning, he was jogging perfectly," he recalled, "and then when he was galloping, it was really bothering him. I just jogged him and jogged him for a long time--six weeks. Sometimes I tried to gallop him, and I could see he was still not 100%. I could have pushed, but why?" The distress was located in Bienamado's back, his muscles presumably strained during his turbulent trip over Arlington's water-logged grass course. The untimely ache all but expunged any aspirations for the Breeders' Cup. Gonzalez, ever the astute conditioner, merely got his bearings and concentrated on restoring Bienamado to his midsummer majesty. Throughout the peaks and depths, owner/breeders John Toffan and Trudy McCaffery knew there was a raging bull beneath that copper mantle--and an heir to the throne as well. It wasn't that long ago that the big shot around their barn was Bien Bien, a gifted sort in his own right who came within a half-length of immortality in the '93 Breeders' Cup Turf (gr. IT). Bienamado, it turns out, has inherited much more than his sire's princely looks and partiality for the grass. "This horse came out a lot like his father," Gonzalez said. "Very kind." When the equipment is thrown on in the afternoons, however, a metamorphosis occurs. The mellow, overgrown kid is suddenly a fierce gladiator. "He's just an eager worker, like 'Let me at 'em!' " explained jockey Chris McCarron, who wages a constant but controlled tug-of-war with the zealous colt. "Some horses, you pull that hard on for a long ways, and they'll eventually kind of get discouraged, spit the bit, and then never pick it up again, but he doesn't seem to mind that kind of restraint." McCarron was sitting solid against the bit the moment the 12-furlong Turf Cup got underway. A peek at the toteboard revealed to McCarron a slow first split--:25.49--but sitting a proximal third with a volcano of horseflesh underneath, he knew he had both Vergennes and Lazy Lode measured. The only real drama occurred as the field turned up the backstretch. Bienamado neglected to switch onto his right lead--a bad habit McCarron had noted in prior stretch runs--so the rider gently shifted his weight to help the transition. It didn't work. He tried again. Still nothing. "The third time I really manhandled him," McCarron explained, "and he changed." He also took it as a cue to cut. The move put Bienamado at Vergennes' throat heading into the final curve and essentially put the Turf Cup in the books. He was the portrait of power on the final turn, blazing unchallenged through the stretch to score by three lengths. Northern Quest, seemingly marooned in last by the dawdling pace, turned in a courageous run to catch Lazy Lode, the two-time defending champ, for second. Despite over three months on the sidelines, Bienamado covered the distance in a genuine 2:25.98. "I knew he was not just fit enough to run, but fit enough to win," said McCarron, showering added praise on Gonzalez for his round-the-clock thoroughness. "He's a very good communicator with his horses. He pays very close attention to the way they walk back home after their workouts. "Recovery time is a big key to how fit a horse is after you actually put the test to him," McCarron went on, recalling Bienamado's recent prep work. "When you work a horse seven furlongs, and you let him run that last 3 1/2 furlongs, if they come home and still got spring in their step, boy, that's a hell of a sign. But if they come home and you can just see the fatigue in their legs and them blowing hard, then you know, 'OK, well, we've got to do some more work.' And he's very good at reading that." And with Bienamado's clean bill of health comes the potential of things to come. Toffan, McCaffery, and co-owner Robert Sangster have a shooter with coveted versatility and talent still unseen. Consequently, his 2001 game plan may run the gamut of distances and venues alike. The Dubai Duty Free (UAE-III) over nine furlongs and the 1 1/2-mile Dubai Sheema Classic (UAE-III), both in late March, are strong early possibilities. "He runs a mile and a half because he's a good horse," said Gonzalez, watching the colt dive into his hayrack. "But the best distance is a mile and a quarter because he's got that quick move. Even a mile and an eighth, he can run very good." Good enough to exceed Dad? "I don't know," Gonzalez admitted. "Bien Bien was a very good horse. He never gave me a bad race." With Gonzalez in his corner, however, Bienamado is starting to fill his daddy's shoes quite well. (Chart, Equibase)



Copyright © 2015 The Blood-Horse, Inc. All Rights Reserved.