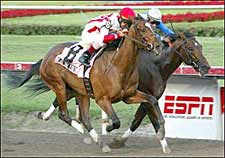 By Steve Haskin and
Scott Davis
Second of June, a game runner-up in Saturday's Fountain of Youth Stakes (gr. II) suffered a condylar fracture of the cannon bone, and was scheduled to undergo Sunday afternoon surgery at Dr. Stephen Selway's clinic near Gulfstream Park.Trainer Bill Cesare said Second of June, owned by his mother Barbara, first exhibited soreness after cooling off, likely indicating the injury occurred during the race. On Sunday, Dr. Stephen Selway inserted three screws to support the bone and Cesare was pleased with the surgical result. "Doctor Selway has worked on horses with similar or worse injuries and they have come back fine," he said. "He thinks it wasn't too bad. If all goes well he can come back in about 90 days and we can start doing something with him in about October."Second of June came into the Fountain of Youth off back-to-back victories in the Holy Bull Stakes (gr. III) and What a Pleasure Stakes. The colt was picked out of the Ocala 2-year-old sale for $7,500 by Cesare, mainly because they shared the same birthday (June 2). The son of

Louis Quatorze

races under the name of Cesare's mother, Barbara.Trainer Rick Violette said Read the Footnotes, winner of the Fountain of Youth, and Swingforthefences, an impressive allowance winner were doing well Sunday morning."They're a little tired," Violette said. "Read the Footnotes was also a little fiesty this morning. He's not a lapdog that's for sure. Days like that don't come around often enough. It's been a while - if ever. It's so exciting considering a lot lies in front of us."Violette said Read the Footnotes would be pointed for the $1 million Florida Derby (G1) Mar. 13. Swingforthefences might not appear again for five or six weeks."There's a lot of races out there," said Violette. "Swingforthefences has had two tough races in a short amount of time. We'll want to give him a week or two and I won't run in the Florida Derby as an entry."Both colts are owned by Klaravich Stables.Todd Pletcher said both his winners, Limehouse (Hutcheson Stakes-gr. III) and Value Plus (allowance race) both came out of their races in good shape, as did Shaniko, second in an allowance race."We'll probably stretch Limehouse to a mile and a sixteenth, maybe in Louisiana or Tampa," Pletcher said. "We were delighted with Value Plus. The main concern was how he would act in the gate, and once he broke well and got that behind him I was very confident that he would get the job done. I think it was a brilliant race considering how fast the race went. Shaniko is a work-in-progress. He was climbing once he started getting dirt kicked in his face for the first time. Once he got in the clear he made a great middle move. He lost to a horse that is a better horse right now, but I think he will improve from this race."

Trainer Nick Zito, who saddled seven horses on the Fountain of Youth Day program, was happy with Birdstone and his Grade 1-winning colt's performance in Saturday's first race. The son of Grindstone easily won his first race of 2004 after closing his juvenile season with a victory in the Champagne Stakes at Belmont Park last fall.Zito was still not sure of where Birdstone would start next. He confirmed that his other top sophomore, Eurosilver, remains on target for the Swale Stakes on the Florida Derby undercard Mar. 13. He also said that stakes-winner The Cliff's Edge could stay and race at Gulfstream if wet weather were to force next Saturday's Palm Beach Stakes off the turf. Plans currently call for The Cliff's Edge to race in the Sam Davis Stakes at Tampa Bay Downs next Saturday.Betting was suspended on Second of June (#16) in Pool 1 of the Kentucky Derby Future Wager after the injury was reported.