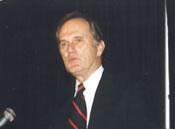 Herald-Leader, Representative Larry Clark (D-Louisville) has given horsemen and the tracks until Friday to agree to share casinos, or forget legislation this session.Jones said he did not believe the residents of Kentucky would pass such an amendment that would allow for more gambling in the state. He doesn't think the people of Kentucky would vote for an amendment that would increase the number of gambling locations in the state by 50%."This is not a case of the horsemen being selfish," Jones said Friday morning. "It's important to get the big picture, and the big picture is that you have to get something passed by the people of Kentucky, not just the politicians. What I'm hearing from the people is that they don't want a proliferation of gambling locations in the state."Jones said he believed the state's Thoroughbred industry was more united now than at any other time in history. He noted that the Kentucky Thoroughbred Association, the Kentucky Horsemen's Benevolent & Protective Association, and officials from the state's eight racetracks have worked together on language of a possible amendment to the state constitution allowing for full scale casino gambling at the state's eight racetracks. If passed, the amendment could be placed on the ballot during the general November election provided it is approved by the General Assembly.The proposed amendment Jones backs reads: Do you favor an amendment to the Kentucky Constitution that will allow the eight existing Kentucky licensed pari-mutuel horse tracks to conduct all forms of regulated casino wagering if 40% of the gross profit goes to the following groups according to the percentage indicated:
40% primary, secondary, and higher education;
20% health care for seniors, indigents, and veterans programs;
15% trust fund for the benefit of local governments;
10% economic development programs in counties other than those in which licensed racetracks are located;
10% fish & wildlife, environmental protection, purchase of agricultural conservation easements (P.A.C.E.) -- (equal division among three);
3% programs to combat drug and gambling addiction;
2% agricultural/animal research and development.
And providing that the casino license requires each track to run at least the same number of live races each year as it did in the year immediately before the license was first issued, weather and natural disasters excepted; and further providing that the remaining 60% is divided:
78.33% race track for construction and operation;
20.00% purses;
1.67% breed development/research/horseman's services.