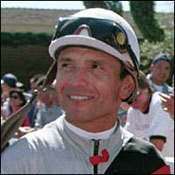 Ward wouldn't comment on Wednesday's meeting aside from confirming it took place, citing confidentiality. He wouldn't confirm whether or not the rider submitted to a drug test. Mike Kilpak, California Horse Racing Board regional supervising investigator, was also in attendance, as was an individual the stewards referred to as "a friend" of Valenzuela's.

"It was an informal meeting and lasted about 30 minutes," Ward said. "That's all I'm going to say. That's all I can say."Pedersen added, "We just went over some guidelines about a hearing and what will happen should he request one."

According to the stewards, Valenzuela contacted them on Sunday via telephone and requested the meeting. The rider said he had been depressed, but was feeling much better and was anxious to discuss his situation with them.Corey Black, Valenzuela's new agent, said the stewards want to meet again soon with Valenzuela. ``He told me they were very receptive and very interested in what he had to say and seemed very open-minded about it, which left him to be optimistic,'' Black said.

CHRB spokesman Mike Marten said that as of late Wednesday, Valenzuela hadn't yet requested a formal hearing. Once an official request is made, the rider would be given 10 days notice to appear.

"As of now there is no date for a hearing," Marten said. "There will be more details available if and when a formal hearing is requested."

Valenzuela missed the first 13 days of the Santa Anita meet due to several previous suspensions for riding infractions. He returned to the saddle on Jan. 11, winning with 10 of 49 mounts. On Jan. 19 he fired longtime agent Nick Cosato citing his discomfort with the agent's dual representation of both him and Corey Nakatani and hired former jockey Black three days later. That same afternoon he called stewards to say he had twisted his ankle and wouldn't be able to fulfill his riding obligations. He failed to show up to the track for a requested drug test and was suspended at the conclusion of the day's races.``He's doing quite well,'' Black said. ``As he's gotten better, he's reaching out to more people.'' Valenzuela is coming off a career year in which he swept riding titles at Southern California's five major meetings, won the Breeders' Cup Distaff aboard Adoration, and was an Eclipse Award finalist for jockey of the year.