Medaglia d'Oro's Desert Journey
by Steve Haskin
Date Posted: 2/10/2004 9:09:24 AM
Last Updated: 2/11/2004 6:07:23 PM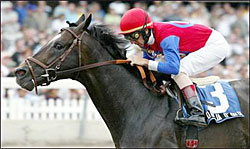 Donn Handicap winner Medaglia d'Oro, began his journey to stardom in an Arizona desert.
Photo: Bill Denver

With Medaglia d'Oro's brilliant victory in the Donn Handicap (gr. I), it looks as if the next stop is Nad al Sheba Race Course and the juicy $6 million pot that awaits him in the Dubai World Cup (UAE-I). But this won't be the colt's first trip to the desert.Before there was the big, grand-looking running machine racing fans all over America have come to know, there was a different Medaglia d'Oro; one whose world growing up was light years from the big-time arenas in which he would excel.Born at Katalpa Farm in Paris, Ky., Medaglia d'Oro was sent to the farm of his owner/breeder, Joyce and Albert Bell, who have a 110-acre spread outside Great Falls, Montana. After being broken, Medaglia d'Oro was about to return to Kentucky for his early training when the Bell's trainer, Kent Jensen, suggested they send him to a small ranch in Arizona, which was located pretty much in the middle of nowhere, between Cave Creek and Carefree. Running the ranch was Jensen's exercise rider at Turf Paradise, Raland (Ral) Ayers, who worked there with his brother Lance. Jensen had helped them get started, lining up a few yearlings for them to break, and he and Ral would divide their time between the ranch and the racetrack. Lance also galloped horses for trainer Jeff Mullins, and broke eventual Santa Anita Derby (gr. I) winner Buddy Gil.The Bells agreed to send Medaglia d'Oro to the Arizona ranch, shipping the big, strapping yearling down just after Thanksgiving. "The day he arrived, he had dapples on him you wouldn't believe," Jensen recalled. Over the next five months, Medaglia d'Oro grew into a racehorse, but it certainly wasn't the conventional early training for a future superstar."It was just a little training track out in the middle of nowhere," Jensen recalled. "It didn't even have a rail. When I first saw the place I didn't like it, but it was close enough to Turf Paradise. Ral would take Medaglia d'Oro out and go riding off through the desert, out there with the cactus.""I can't even remember the name of the place," Ayers said. "It was just a little cowboy ranch."But Ayers and Jensen certainly got more than they bargained for with Medaglia d'Oro. "He stood out right from the beginning," Ayers recalled. "He had size and was well put together, and was very athletic. People would come to look at the young horses, and they'd always ask, 'Who's that one?'"Jensen and Ayers began to think that maybe they had something special on their hands; certainly something you wouldn't expect to find running out in the middle of the Arizona desert."The first day I had him out on the track for a jog, he bowed his neck and knew exactly what he was supposed to do," Ayers said. "I had to back him up in order to slow him down. He was never intimidated by other horses. He was just a pro from day one. The first time I galloped him, he went between two horses like he'd been doing it all his life. I've never been around a horse with that much class."As Medaglia d'Oro's training picked up, he continued to amaze Ayers and Jensen. "He'd go two miles with rings on, then breeze three furlongs in :35 1/5," Jensen recalled. "You just didn't see young horses breeze in :35 1/5 after going two miles. It was nothing to him. He had an unbelievable stride. I trained him like I would a 3-year-old. The first time Ral got on him, he told me, 'This colt is something.' I never train a 2-year-old two miles, but from the first day he stepped foot on the track he wanted to train. You live your life to be around a horse like this. He was something special."The following April, Medaglia d'Oro was ready to be shipped to the racetrack, and the Bells sent him to trainer Dave Vance. While training at Churchill Downs that fall, he caught the eye of former trainer-turned bloodstock agent Mark Reid, who had just bought a 2-year-old named Labamta Babe for Bobby Frankel and owner Edmund Gann. Reid wasn't in the market for another young horse at the time, having just bought a potential classic prospect for Frankel. Medaglia d'Oro made his first start on Dec. 7 at Turfway Park and finished second, breaking from the 12 post. Shortly after the race, Vance packed up shop and headed for Oaklawn Park. In February, Reid showed up looking for a new Derby horse for Frankel after Labamta Babe suffered an injury following an impressive victory in the Santa Catalina Stakes (gr. II).When Reid ran into Vance at the rail one morning, he told him to keep an eye out for any good-looking 3-year-olds."Well, remember that colt you watched train at Churchill last fall?" Vance said. "There's no horse on the grounds who can beat him. He was second first time out, and I'm gonna run him again pretty soon. Watch him and let me know what you think."When he was entered on Feb. 9, Reid called Frankel and told him to watch this colt. With Reid watching from Philadelphia Park, Medaglia d'Oro won by 4 1/4 lengths in 1:10 4/5 for the six furlongs, earning a sensational 101 Beyer Speed Figure. Frankel was unable to get to a TV and missed the race, but Reid told him this was a horse they definitely wanted to pursue. Frankel saw the huge speed figures the colt posted and gave Reid the green light.The Bells told Jensen about the offer, and he felt the price they were offering was too good to pass up. "If I had known he had run a 101 Beyer in that race, I would have told them not to sell," Jensen said, "When they told me it was Frankel who had bought him, I said, 'Well, at least we'll find out how good he really is.'"And that they did, as Medaglia d'Oro developed into one of the leading horses in the country, winning grade I stakes at 3, 4, and 5, while earning $4.5 million.And it all began on a little ranch in the middle of the Arizona desert. Now, four years later, Medaglia d'Oro returns to the desert, this one halfway around the world, to compete for racing's richest prize.



Copyright © 2015 The Blood-Horse, Inc. All Rights Reserved.