Memorial Service Planned for Jockey Rowland
Date Posted: 2/9/2004 11:52:53 AM
Last Updated: 2/11/2004 4:22:04 PM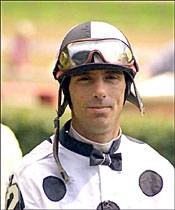 Michael Rowland.
Photo: Turfway Park

Jockey Michael Rowland, who was seriously injured in a spill at Turfway Park in Northern Kentucky Feb. 4, died early Monday, Feb. 9, at University Hospital in Cincinnati, Ohio. He was 40.Rowland had been in a coma and on life support since the accident occurred. He suffered head injuries when his mount, World Trade, broke down and fell. Joanie's No Phony, ridden by Jessica Endres, and Miner Moss, ridden by Mark Johnston, both collided with World Trade."Our deepest sympathy goes out to Mike's family at this difficult and painful time," said Turfway Park president Robert N. Elliston. "Mike's contagious enthusiasm and his drive for racing excellence will be sorely missed but never forgotten by all of us at Turfway Park." Rowland's family will be returning to Cleveland, Ohio, with funeral arrangements pending. A memorial service will be held at Turfway Park at 11:00 a.m. on Wednesday, Feb. 11, in the Homestretch dining room. "It is with great sadness that we learned this morning of the passing of Michael Rowland," said Tim Smith, commissioner of the National Thoroughbred Racing Association. "All of us at the NTRA and Breeders' Cup extend our heartfelt sympathies to his family, friends and colleagues. Rowland's nearly 4,000 winners over a career dating back to 1979 speak not just to his riding excellence, but to his remarkable dedication and courage."Rowland was a 24-year veteran who was the leading rider at Thistledown in Ohio seven times. He won 29 meet titles at the track, which has four meets a year. He arrived to ride at Thistledown in 1984 and won 30 stakes races there from 1985 to 2003.He won a total of 3,998 races. His first win came in 1979 at Delta Downs aboard Ram's Princess. He rode his 3,000th winner in November 1998. Rowland's mounts earned in excess of $28.6 million.Darrell Haire, membership representative for the Jockeys' Guild, said an average of three jockeys a year worldwide die from racing accidents. Guild records show that since 1940, 142 jockeys in North America have died as the result of riding accidents.Rowland tied a record at Ohio tracks when he won six races in a day in March 1991 and October 1999.Rowland won with 17% of his mounts in 2003, winning 155 races from 923 chances. This year, he had ridden 67 races and won five.Rowland got his interest in racing from his father, who was a harness trainer. His wife, Tammy, whom he met at Keeneland, is a trainer. He is also survived by three children, Sara, Farren, and Randi.Rowland was born Sept. 12, 1963, in Saratoga Springs, N.Y.Turfway has established the Michael F. Rowland Fund at Fifth/Third Bank. Donations to the fund can be made at any Fifth/Third Bank location. Those not living near a bank branch may send donations to the Michael F. Rowland Fund, c/o Turfway Park, P.O. Box 8, Florence, Ky. 41022. The Kentucky Horsemen's Benevolent and Protective Association has also set up a fund in the name of Rowland to provide financial assistance to his family. Contributions can be mailed to the Kentucky HBPA at 422 Heywood Ave., Louisville, Ky., 40208.Thistledown and Magna Entertainment have established the Michael Rowland Fund at Natiional City Bank and started the fund with $10,000. Contributions will be accepted at any National City branch in the state of Ohio. Donations can also be sent to The Michael Rowland Fund, c/o Thistledown, 21501 Emery Rd., North Randall, OH 44128.



Copyright © 2015 The Blood-Horse, Inc. All Rights Reserved.