Kentucky Derby Trail: Champ Not the Only Action in Sham
by Steve Haskin
Date Posted: 2/5/2004 8:23:30 PM
Last Updated: 2/6/2004 3:00:40 PM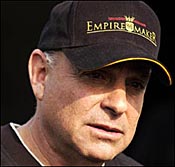 Bobby Frankel, trains Sham starter Master David.
Photo: Mike Corrado

If someone told you right now, the Kentucky Derby (gr. I) winner will come out of Sunday's Sham Stakes, you'd obviously run to the windows and put down a bundle on Action This Day. But it might not be wise to rush to any hasty conclusions.First off, Action This Day is no doubt the standout in the Sham, even with trainer Dick Mandella saying he may need this race. Last year's 2-year-old champ has been working long and fast for quite some time and appears more than fit for his 3-year-old debut. But the race is nine furlongs, and that's not a typical or ideal distance for your first start of the year. If Action This Day does get beat, you certainly can't hold it against him, but the reason may have nothing to do with him. It just may be he will get beat by a very good horse. And potentially, there are several very good horses in the field. One horse who has made a big impression since he first arrived in this country from England is Master David. Unfortunately, a victory in the Sham will make him one of the favorites in the first Future Wager next week, so you'll have to take quick action of you want to get the 35-1 odds he's quoted now at Bally's.In the Remsen (gr. II), Master David stretched out from a seven-furlong maiden race at the tiny English track Thirsk to 1 1/8 miles. Not only did he cut Read the Footnotes' six-length lead in half in the final furlong, he came home his final eighth in :12 3/5, running into a strong headwind, while finishing almost 11 lengths ahead of the third horse. And the winner's 105 Beyer Speed Figure was the best of any 2-year-old last year.After being sent to Bobby Frankel, he finished third in the Santa Catalina Stakes (gr. II), where he was put in the race down the backstretch, about three lengths off the pace. Going from fractions of :48 1/5 and 1:12 1/5 in the Remsen to :45 3/5 and 1:09 4/5 in the Santa Catalina, it is understandable why he lacked the same closing punch he did in the Remsen. He still came back again in the final furlong, despite being between horses, and was able to snatch third from Preachinatthebar, who looked to have gotten the better of him at the eighth pole. Frankel now knows how the horse better and how he wants to run. His instructions to Alex Solis will be short and simple: "Break well, then just sit on him and make one run." Frankel could have been tempted to put blinkers on him, as he did last year with Empire Maker, who ran a very spotty race in the Sham. But Frankel feels he just needs to be ridden the way he wants to run.Master David is by Grand Slam, out of a Sadler's Wells mare. His second dam is the classy Bint Pasha, by Affirmed, winner of the group I Prix Vermeille in France, group I Yorkshire Oaks in England, and group II Pretty Polly Stakes in Ireland. His third dam is by Graustark, and he's also inbred 5x4 to Graustark, as well as to Raise a Native and Northern Dancer. He has a dosage profile of 8-1-14-5-0 and a 1.33 DI. He was consigned to the Keeneland November Mixed sale as a weanling, but was taken out of the sale. He then failed to meet his reserve at the Keeneland September yearling and was a $70,000 buy-back before finally selling as a 2-year-old at Calder for $100,000.So, with this colt's pedigree, trainer, and running style, he has the potential to be a strong Derby contender with a big race in the Sham. He'll likely follow the same path as Empire Maker, and head east after the Sham for the Florida Derby (gr. I).Master David is certainly not the only live horse in the Sham. The aforementioned Preachinatthebar was coming off a maiden victory in the Santa Catalina, and lost of a lot of ground at the head of the stretch. He still closed well and battled hard down the stretch, and is eligible to show big improvement. He's by Silver Charm, out of a Silver Deputy mare, and his maternal great-grandsire is Spectacular Bid. He will have no trouble getting 1 1/4 miles, as indicated by his 1.29 DI. At 125-1 at Bally's, he's an attractive Derby possibility for Bob Baffert.The unknown horse in the Sham is Borrego, who like Preachinatthebar was one of the top longshot picks from last week's column at 225-1. He is an unknown factor because his last start, an impressive allowance score at 1 1/16 miles, was his first start on dirt, and you never know if a horse will continue to excel after his first start over a new surface. Remember last year's Sham winner, Man Among Men. But he beat a good horse in Dwango in his dirt debut and did it the right way. By

El Prado

, out of a Strike the Gold mare, he has Herbager in his tail-female family and has a 1.40 DI.All three of these horses could be live horses not only for the Sham, but for the Kentucky Derby.In addition to Preachinatthebar, Baffert will run the maiden Wimbledon in the Sham in order to give the colt a mile and an eighth race. Baffert has always been high on this horse, who has run into some tigers. Baffert has been trying to get him to relax, and still expects big things from the son of Wild Rush. Baffert also is in good shape for Saturday's San Vicente Stakes (gr. III), with Teton Forest and Consecrate, who has been a different horse since being gelded.The mystery of Mustanfar's surprising ommision from the Triple Crown nominations list has been solved. "It was my fault," trainer Kiaran McLaughlin said. With the colt having run so poorly in the Remsen, McLaughlin simply "overlooked" him when the nominations came out and never bothered to have him nominated. But he assured if the colt continues to improve he'll be on the late nominations list. "I wish he was on there, but such is life," McLaughlin said. His explanation once again makes Mustanfar one of the real live longshots for the Derby at 175-1. He'll run next either in the Fountain of Youth (gr. II) or in an allowance race the same day against Birdstone. Looking back at Wednesday's allowance races at Gulfstream and Laurel, Eurosilver's victory was a big load off trainer Nick Zito's mind. Coming off only two five-furlong breezes in 1:02, Eurosilver had every right to get a bit tired, especially pressing a fast pace. But once again, he showed his quick acceleration, bounding away in the final furlong to win by five lengths, earning an excellent 104 Beyer number. With his dominating victory in the Lane's End Breeders' Futurity (gr. II), and three wins in a row, he has to be right up there on everyone's Derby list. At Laurel, Capac sure looks to be an exciting prospect based on his authoritative score in 1:23 flat, while demonstrating a good burst of speed at the stretch and winning with his ears pricked. With a Who's Who-like pedigree, filled with class and stamina, he should keep getting better as the distances stretch out. His trainer, Mike Bell, was Frank Whiteley's right-hand man for many years, and he deserves to have a top-class horse.Also at Laurel, keep an eye on White Mountain Boy in Saturday's seven-furlong Goss Stryker Handicap. This colt has won at seven furlongs, a mile, and 1 1/8 miles and can flat-out run. Owner Michael Gill will also be represented by Ottawa Chief in Saturday's Whirlaway Stakes at Aqueduct.



Copyright © 2015 The Blood-Horse, Inc. All Rights Reserved.