MEC: Recent Moves Designed to Benefit Tracks, Horsemen
by Tom LaMarra
Date Posted: 2/2/2004 11:31:17 PM
Last Updated: 2/6/2004 2:15:11 PM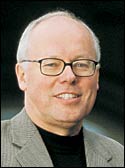 Magna executive Jim McAlpine, said company's strategy in best interests of industry.


Magna Entertainment Corp.'s top executive admitted the company has taken plenty of heat for recent business decisions tied to account wagering and rebate shops, but he indicated the racing conglomerate wouldn't apologize for a strategy he said is designed to benefit the industry in the long term.MEC president Jim McAlpine met with some National HBPA affiliates the afternoon of Feb. 2 during the organization's winter convention in New Orleans. He was invited by National HBPA president John Roark, who said he wanted to drive home the point decisions made by MEC could adversely impact horsemen.McAlpine said he understood completely. He took time to speak with members of the press during the horsemen's banquet later that evening."We have a basic game plan, and that's to make sure the guys that put on the show -- the racetracks and the horsemen -- get their fair share (of revenue)," McAlpine said. "You've got to look at what has happened in this industry. On-track (handle) has gone to off-track (handle). The other dilemma is we have a pricing problem. We've left a 17% gap in there."McAlpine was referring to an issue that has come up frequently at National HBPA conventions: the share of the betting dollar. Given a 20% takeout rate and a 3% host fee, there is a healthy 17% of the pie remaining, and it doesn't always get cut up fairly. Some believe that slice allows rebate shops to thrive or fuels profits for wagering outlets that return no revenue to purses.MEC in late December cut off some rebate shops and also greatly restricted access to its signals by other account-wagering providers. MEC operates the XpressBet account-wagering system."We're looking to restructure the pricing model," McAlpine said of the recent moves. "We've changed the way we've done business to focus on regulatory reform."McAlpine said the company of course wants to funnel business to XpressBet because it sees account wagering as a "critical piece" of its long-term business plan. He said other companies expressed no interest in sharing product, so MEC "stepped back."McAlpine said the company attacked the issue of rebates -- it later made some pricing concessions for handful of companies -- because technology and the 17% margin combined to create "a goofy pricing mechanism.""Not everyone can discount," McAlpine said, "so horsemen should be our partners in what I call a takeout adjustment ... We've got a different vision of what this industry can be than other participants."McAlpine said MEC believes that, rather than the industry devising ways to split and re-split the same $15 billion in handle, the focus should be on increasing that $15 billion to $30 billion or $50 billion. He said the company expects to be criticized for its decisions, but he also said: "We didn't invest in this industry to ruin the industry."



Copyright © 2015 The Blood-Horse, Inc. All Rights Reserved.