Val's Prince Redux: More Legal Maneuvering
by Scott Davis
Date Posted: 11/29/2000 7:38:30 AM
Last Updated: 11/30/2000 6:20:41 PM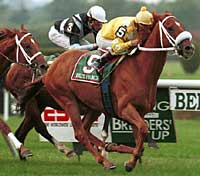 Val's Prince, winning the 1999 Turf Classic at Belmont Park.
Photo: Associated Press

Although it appeared as if resolution was near in the lawsuit regarding the ownership of Val's Prince, a new round of legal maneuvering threatens to prolong the matter.In her ruling on the lawsuit brought by Robin Martin against Steve Weiner, Broward County (Fla.) Judge Patricia Englander Henning ruled that full ownership of the 8-year-old gelding belongs to Martin, based upon her reading of the Jockey Club foal certificate."The Court finds ... that with the exception of one witness, David Romanik ... the testimony presented lacked totally lacked credibility," Henning wrote, explaining that her decision was based solely upon the certificate that showed, as its last notation of ownership, a transfer from Weiner to Martin in Sep. 1995. The judge added, "Each witness had an ulterior motive."But Weiner's attorney Dock Blanchard, contends that he had placed into evidence a later copy of the certificate that, in March 1997, transferred a half-interest back to Weiner."If she believes none of the testimony, the plaintiff has not proven their case," Blanchard argues. He has therefore requested that Henning re-hear the evidence and consider the 1997 transfer in her decision.Brad Beilly, attorney to Martin, does not dispute the 1997 transfer, but maintains instead that it was done under the threat of bodily harm to his client. "The judge was correct in determining that based upon the record before her there was no recorded transfer to Weiner," he said, "But I respectfully disagree with the court that there were no other grounds."Weiner, meanwhile, who has threatened lawsuits against Beilly for character defamation, was pleased that "the judge clearly supported what I've said all along that there were no coercion or threats involved."Blissfully ignorant of the litigation, Val's Prince continues to perform on the racetrack, having most recently finished third in the Red Smith Handicap (gr. IIT) at Aqueduct. It is expected that the multiple grade I stakes winner, an earner of over $2 million, will make his next start in the $1.3 million Hong Kong Vase Invitational (gr. IT-HK) at Sha Tin Racetrack on Dec. 17.



Copyright © 2015 The Blood-Horse, Inc. All Rights Reserved.