<i>Seabiscuit</i> Nominated for Best Picture
by Victor Ryan
Date Posted: 1/27/2004 9:44:59 AM
Last Updated: 1/28/2004 2:55:57 PM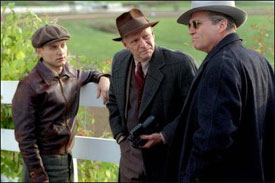 Universal Pictures' 'Seabiscuit' was named Tuesday as a best picture Oscar nominee in the 76th Academy Awards. From left, Tobey Maguire, Chris Cooper, and Jeff Bridges are shown in a scene from the film.
Photo: Universal Pictures

Seabiscuit, the summer blockbuster about the famous Depression-era racehorse, received seven Academy Award nominations, including one for Best Picture.Competing against Seabiscuit for Best Picture is The Lord of the Rings: The Return of the King; Lost in Translation; Master and Commander: The Far Side of the World; and Mystic River.Nominations were announced Tuesday morning.Seabiscuit also received nominations in the following categories: Art Direction, Cinematography, Costume Design, Sound, Film Editing, and Writing (Adapted Screenplay).Seabsicuit, based on a book written by Laura Hillenbrand, was directed by Gary Ross for Universal Pictures, Dreamworks Pictures, and Spyglass Entertainment.The Oscar's will be presented Feb. 29.



Copyright © 2015 The Blood-Horse, Inc. All Rights Reserved.