Centennial (Cella)bration: Oaklawn Turns 100
Date Posted: 1/23/2004 11:16:39 AM
Last Updated: 1/24/2004 4:49:44 PM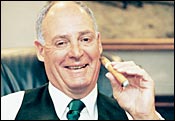 Oaklawn Park owner Charles Cella.
Photo: Anne M. Eberhardt

< />
Brainstorming for ideas to celebrate Oaklawn Park's centennial in 2004, track owner Charles Cella turned into the $6-million man late last summer. At the ripe old age of 67, Cella stunned his colleagues when he said he was going to offer a $5-million bonus to any 3-year-old that swept Oaklawn's Rebel Stakes and Arkansas Derby (gr. II) and then won the Kentucky Derby (gr. I). He also raised the purse of the Arkansas Derby to $1 million. "Every bit of that is Dad," said Cella's youngest son, Louis, Oaklawn's vice president. "We're sitting there going, 'No, come on, this is a little rich. You can't do this.' He said, 'Bull----, it's our 100th anniversary and we're doing it.' We all tried to talk him out of it." Louis Cella said he rarely talks his father, a fourth-generation racing executive, out of anything. Especially when the subject is Oaklawn, which officially throws its centennial celebration bash Jan. 23 with the first of 55 scheduled live racing dates. Make that, centennial (Cella)bration, since Oaklawn and the Cella family have literally grown up together. Charles Cella has presided over the Hot Springs, Ark., track since 1968, when he succeeded his late father, John G. Cella, Oaklawn's boss for three decades. Among Oaklawn's founders in 1904 were Charles Cella's grandfather and great uncle. "I believe (2004) is more special to Charles than anybody, as well it should be," Oaklawn general manager Eric Jackson said. "It's something for a major sports franchise to be in the same family 100 years. "I'm not a sports authority, but I can't think of another sports franchise that's been in the same family for 100 years." Under the Cella family's watch, Oaklawn evolved into a racing giant by age 80, and its heart still beats strong two decades later. Charles Cella, who whacked a home run with his Racing Festival of the South concept in the mid-1970s, said he believes the $5-million "Centennial bonus" will be the catalyst for a memorable 100th season. "This will be the greatest year in Oaklawn history, weather permitting," Cella said. "The economy in this part of the country is improving. I think the outlook for the people is improving, and I know we're going to have the best quality of horses we've ever had." Purses are projected to average approximately $250,000 daily, an all-time record. And with a $5-million bonus as bait, several of the country's prominent Kentucky Derby hopefuls are already on the grounds, including Mr. Jester, winner of the $1-million Boyd's Gaming Delta Jackpot Stakes; Tiger Hunt, fourth in the Bessemer Trust Breeders' Cup Juvenile (gr. I); and Smarty Jones, unbeaten in three lifetime starts. "The name of the game in racing is to reward our steadfast patrons with good theater," said Cella, who campaigned 1995 male turf champion Northern Spur but is void of a bonus candidate at the moment. "I just thought trying to lure the best 3-year-olds to Oaklawn for our 100th year would be a wonderful thing. When you do something like that, I think the overall quality of your racing is magnified." Jackson said the bonus series, which begins with the $200,000 Rebel Stakes on March 20, followed by the Arkansas Derby on April 10 and Kentucky Derby May 1, has generated "a buzz" from coast to coast. The $5-million bonus is the largest ever offered by a track in American racing history and matches the amount of the Visa Triple Crown bonus. Raised from $500,000, the Arkansas Derby will be the richest race in Oaklawn history and the country's most lucrative Kentucky Derby prep along with the Florida Derby (gr. I). After "literally" 1,000 ideas were kicked around regarding the centennial, Jackson said he was floored when Cella revealed his brazen $5-million bonus plan. "It's a tremendous liability," said Jackson, who holds a degree in economics and business from nearby Hendrix College. "Certainly, a publicly traded company could not do it. As I've said before, it comes from Charles' pocketbook. But it first comes from his heart. "We just needed to make sure that everybody understood the plusses and the minuses, and the minus is this would be a terrible financial hit. But at the same time, what a gift to racing. And that's what it is; it's Charles' gift to racing." Cella announced his gift during an Oct. 1 news conference in Little Rock, and fielded more than just questions about the bonus. A local business reporter asked Cella if rumblings about Churchill Downs buying Oaklawn were accurate. Cella quickly shot down the speculation, although rumors persist almost four months later. " 'Ever', of course, is a big word," Cella said. "But I think one of the things that is a trademark of Oaklawn is continuity of management. And for the foreseeable future, I continue to see that." Jackson said it's hard to imagine the Cella/Oaklawn marriage ending, comparing Charles Cella's legacy in racing to that of Frank Broyles' longtime reign as athletic director at the University of Arkansas. Broyles was named the state's most influential athletic figure during the 20th century by the Arkansas Democrat-Gazette newspaper. "I think Charles Cella and Frank Broyles are very much alike," Jackson said. "They've both built something that is unbelievable, and as long as they are healthy and interested, which Charles is, you would expect him to stay involved for as long as he can." Cella's hand on Oaklawn's racing product is annually seen late in the meeting. Although stars like Old Rosebud, Pan Zareta, and Exterminator competed at Oaklawn less than 20 years after its opening, the track raced under the national radar, Cella said, until the Racing Festival of the South was launched in 1974. The Festival packs Oaklawn's biggest stakes races into the final week of the meeting, a concept that has since become standard fare at tracks across the country. Like the "Centennial bonus," the idea was 100% Cella and hatched, he said, when "AWOL" from Washington and Lee University in 1956 to attend his first Kentucky Derby. "In those days, that Friday before was not a very big day, the (Kentucky) Oaks Day," Cella said. "I kept thinking to myself if Churchill could do this for one day, why can't a racetrack do it for a week? That was really the economic concept for the whole thing." The Racing Festival gained instant credibility when Miss Musket and her legendary connections--trainer Charlie Whittingham and jockey Bill Shoemaker--won the 1974 Fantasy Stakes. Once the country's richest race for 3-year-old fillies, the Fantasy marked Shoemaker's 100th victory in a six-figure race. Other marquee Festival events are the Arkansas Derby, Oaklawn Handicap (gr. II), Apple Blossom Handicap (gr. I), and Count Fleet Sprint Handicap (gr. III). The Festival's roster of champions reads like a who's who of racing: Cigar, Azeri, Temperence Hill, Davona Dale, Bayakoa, Paseana, Bold 'n Determined, Susan's Girl, and Dave's Friend. "That's really what catapulted us to the neon lights," Cella said. "When we first started, we were very nervous about it. But it has caught on like fire. I guess a good sign of flattery is imitation." With Cella at the helm, Oaklawn has seen phenomenal business growth, and at the same time tackled some of the most difficult questions in its history. From 1962-83, attendance and handle records fell faster than autumn leaves and eventually made Oaklawn the country's largest track outside of New York or California. Continued...



Copyright © 2015 The Blood-Horse, Inc. All Rights Reserved.