Schwarzenegger Vetoes Workers' Comp Takeout Bill
by Jack Shinar
Date Posted: 1/22/2004 7:54:14 PM
Last Updated: 1/23/2004 1:41:03 PM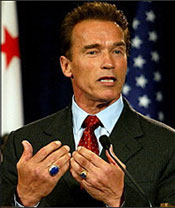 Gov. Arnold Schwarzenegger
Photo: Associated Press

California Gov. Arnold Schwarzenegger Thursday vetoed horseracing legislation that would have increased the takeout percentage on exotic wagers to help offset the costs of workers' compensation insurance premiums to horsemen.According to California Horse Racing Board commissioner Marie Moretti, the governor rejected the measure, Assembly Bill 900, which would have raised the takeout on all wagers other than win, place or show from 20.18% to 20.68%, because he wants the state legislature to deliver a comprehensive workers' compensation insurance package by March 1. She said Schwarzenegger is opposed to "gut and amend" legislation as well, feeling the emergency measure failed to receive a full venting process."We're very disappointed," said John Van de Kamp, president of the Thoroughbred Owners of California. "It is an extemely important piece of legislation to racing. The governor objected to certain aspects of it. We'll be back with a sleeker bill."Horsemen estimated that the legislation would have raised $10 million annually to help offset workers' comp costs.Van de Kamp said he has already consulted with John Garamendi, the state's insurance commissioner, who supports horseracing's effort. He said Garamendi planned to talk to Schwarzenegger about a follow-up attempt to get legislative relief."We're trying to save an industry," he said. "We'll try to get a new bill to the governor as quickly as possible."The legislation sailed through the California Senate by a 31-4 vote in September and got unanimous endorsement from the state Assembly earlier this month.Even so, Moretti said she thought an override of the veto was unlikely."Not on something like this," she said. "If the (workers' compensation) reform package doesn't come forward, he indicated he would entertain the bill again."



Copyright © 2015 The Blood-Horse, Inc. All Rights Reserved.