Continuing Calumet: de Kwiatkowski's Children Outline Plans
by Deirdre B. Biles
Date Posted: 1/20/2004 10:40:12 AM
Last Updated: 1/23/2004 1:44:15 PM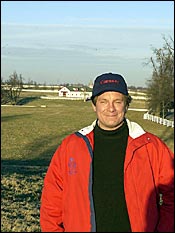 Stephan de Kwiatkowski, outlines plans for Calumet farm.
Photo: Anne M. Eberhardt

Stephan de Kwiatkowski and his sister, Arianne, have a message for the Thoroughbred industry: The children of the late Henryk de Kwiatkowski are committed to the future of Calumet Farm. They are actively involved in running the historic nursery in Lexington and are working hard to ensure its financial health as a horse operation. Stephan formerly spent most of his time in the Bahamas, but now lives primarily at Calumet. A graduate of the Rhode Island School of Design and a former polo player, he is busy learning about the breeding side of the horse business, which he finds "fascinating." Arianne, a divorced mother of two, moved to Kentucky from Switzerland with her children late last year. A clothing designer and former show rider, she is interested in training and enjoys riding Calumet's young racing prospects. "The family is basically managing Calumet on a day-to-day basis, with expert advice from people in the industry" Stephan said. "My sister and I split the tasks, filling the shoes of my father and the farm manager together. Our brother, Conrad, has expressed an interest in the farm, and our sister, Nicole, is always calling us." Said Arianne: "As we learn more, I think more and more of the family will become involved. For me, personally, this is a chance to fulfill my father's dream." Henryk de Kwiatkowski purchased Calumet at public auction in 1992 when the farm was in bankruptcy. Standing before a cheering crowd afterward, he vowed not to change "a blade of grass," then proceeded to keep his promise much to the delight of the Thoroughbred community. But when de Kwiatkowski died in March 2003, many people wondered what would happen to the farm. To Stephan, Arianne, and their father's five other children, there was never any doubt Calumet would continue. "The trustees, I imagine, could have turned around and sold Calumet for our benefit," Stephan said. "But it was always the family's intention to take over the management of the farm. When my father bought the farm it was in a troubled situation, but he left it in a very good condition. It was an amazingly vibrant operation for us to inherit." A trust based in the Bahamas owns Calumet, and there are three trustees, according to Stephan. Henryk de Kwiatkowski's children are the trust's beneficiaries. Narvick International, a California-based bloodstock agency and consulting firm, works as an adviser to the trust and the de Kwiatkowski famly. "Emmanuel de Seroux (of Narvick) has been a godsend," Stephan said. "His advice has been very professional, and he has done a lot to help our family. We're very pleased with the situation so far. The Bahamian trustees have been great. Now that they see the family is enthusiastic about the farm, it has alleviated some of the pressure on them. They are encouraging the family, and they are very excited about the future of Calumet." Under Henryk de Kwiatkowski, Calumet had a commercial focus and that will continue, with the farm's best young horses offered at public auction as yearlings. Most will be consigned this year to the Keeneland September sale. In addition, the 35-member broodmare band will be expanded. Plans call for fillies to be retired from the racetrack, but the trustees have also authorized the purchase of outside stock "if we need to introduce new bloodlines and we're not able to do it through the stallions we breed to," Stephan said. Establishing a stallion operation is another priority. The farm has one stud, Nicholas, but he will probably be sold, according to Stephan. "We're going to stand quality stallions, so we're going to be in the hunt for prospects," he said. "But we also have our eye on some of the promising horses in training from our stock here at Calumet. It will just depend on how well they do at the races." Calumet has four horses at the track, including 2003 Tampa Bay Derby (gr. III) winner Region of Merit. Approximately 12 horses are in training at Calumet. "Eventually, I would like to race more horses," Stephan said. "But first, we need to add auxiliary income to the farm while creating a better functioning program and reducing costs." One way to add income is to take in boarders. Michael Paulson has horses at Calumet, and the farm will be seeking more from other owners. But "we want long-term clients," Arianne said. "We want the foals to be born here and start to train here." Also under consideration is a venture that will increase the size of Calumet's training operation. Another project involves enhancing Calumet's Internet presence. The farm's Web site (www.calumetfarm.com) is undergoing a major renovation. When it is relaunched in March, the site will contain a virtual farm tour with interactive elements, a detailed history of Calumet, and information about the farm's yearlings. Also in March, Calumet will begin selling memorabilia online and at a shop on the farm. The shop will be located in a building where Calumet's farm tours begin and end. There will be a variety of merchandise, including caps, posters, and, eventually, a Calumet coffee table book. "Every cent made will go right back into the farm so that we can continue to keep it looking good," Stephan said.



Copyright © 2015 The Blood-Horse, Inc. All Rights Reserved.