Forever Young
by Ray Paulick
Date Posted: 1/20/2004 8:44:12 AM
Last Updated: 1/20/2004 8:46:14 AM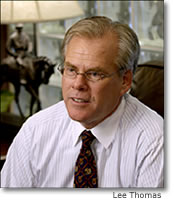 Ray Paulick
Editor-in-Chief


William T. Young will be remembered for many things by many people. He was kind, honest, brilliant, tough, funny, engaging, modest, independent, loving, and loyal. His success in business was monumental, and so was his commitment to what he called "the joy of giving." Just because he liked to lend financial support to various causes didn't make Young a pushover. Several years ago when the National Thoroughbred Racing Association was asking stallion owners to contribute the cash equivalent of one season per year to help fund the organization, Young squawked. "They're double-dippin' on us," he said. "We're already paying that money to the Breeders' Cup. The funding has gotten skewed. It's all breeders' money. The Breeders' Cup and NTRA should be fully integrated...all these organizations should be integrated. It's the most fragmented industry I've ever seen." His complaint didn't keep Young from writing a sizable check to the NTRA, but he followed up by hosting a series of private meetings with NTRA commissioner Tim Smith and Breeders' Cup president D.G. Van Clief, urging them to merge their two operations. A short time later, the Breeders' Cup board voted to do just that. Young loved debates. When I didn't agree with his position on slot machines at Kentucky racetracks--something he advocated during a speech at Keeneland in 1996 when he was the honored guest of the Thoroughbred Club of America--he invited me to stop by his office in Lexington to talk it over. He was a good listener and polite to a fault. But he trumped every point I tried to make on the subject and had an answer to every question I asked. Could that man debate! I left his office with a new outlook on the issue. For starters, he convinced me that opposing the expansion of gambling was limiting an individual's right to choose what to do with his or her own time and money. Young wasn't a drinking man, but he didn't want another prohibition. Likewise, he felt if people wanted to put money into slot machines, that was their business. I learned during this and subsequent meetings how unique William T. Young really was. How many other men of his considerable wealth complained that they didn't pay enough in taxes? Young did, saying, among other things, that the capital gains tax should be much higher for people in his income bracket. And he made light of the president's first tax cut in 2001, asking one of his friends, "Have you figured out yet how you're going to spend the $300 George Bush is sending you?" Mary Agnes Minton, Young's secretary of nearly 34 years, probably knew him as well as anyone. She is still awestruck by his uncanny vision, recalling a visit she made with Young to a run-down property on Lexington's south side in the early 1970s. "There was this dilapidated old cottage," she said, "a car with no wheels, a refrigerator with no door, and rusty barbed-wire fences. The whole place was awful. But Mr. Young looked at it and said, 'Isn't it beautiful?' He didn't see the bad, just the good." The property in question became the foundation for Overbrook Farm. In 1995, Young told his good friend Mary Bingham, whose family owned the Louisville Courier-Journal, that he would not be able to attend a dinner in her honor. She died that night after giving a speech, circumstances that were similar to Young's death on Jan. 12. Ever since turning Bingham down, Young seldom said no to an invitation, and he ended many of his telephone conversations, like those with longtime trainer D. Wayne Lukas, with a simple "I love you." Young feared the people he loved wouldn't be around tomorrow. For the people who loved him, a great fear has been realized.



Copyright © 2015 The Blood-Horse, Inc. All Rights Reserved.