Derby Hopefuls Flock to Palm Meadows
by Steve Haskin
Date Posted: 1/20/2004 1:33:34 PM
Last Updated: 2/11/2004 12:42:46 PM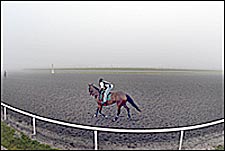 A horse on the track at Palm Meadows training center, where some top 3-year-olds are based this winter.
Photo: Eliot Schechter

The electricity that once rippled throughout Gulfstream Park each winter has moved north to Palm Meadows training center in Boynton Beach, where many of the country's top 3-year-olds prepare in style for their arduous journey to Churchill Downs.On a typical morning at Palm Meadows you can see Nick Zito, with his powerful arsenal of Kentucky Derby (gr. I) prospects, standing by the rail, often in the company of Buckram Oak Farm racing manager Mohammed Moubarak, as he watches his horses come on and off the track. Zito has the promising Eurosilver, winner of the Lane's End Breeders' Futurity (gr. II) for Buckram Oak, as well as Champagne (gr. I) winner Birdstone for Marylou Whitney, and Iroquois (gr. III) and Kentucky Jockey Club Stakes (gr. II) winner The Cliff's Edge for Robert LaPenta. Zito also has high hopes for stakes-placed El Prado Rob and Ghost Mountain, along with Pies Prospect and recent Gulfstream winner Royal Assault.Zito spends the majority of his time at Palm Meadows, making the one-hour drive up the Florida Turnpike from his home near Gulfstream, where he has a barnful of horses with assistant Tim Poole. He wants to take things slowly with his 3-year-olds to ensure they get to Churchill Downs in peak condition, and Palm Meadows is the perfect place for him to escape the daily microscopic scrutiny of the media.Sitting on his pony, a few yards from Zito is Todd Pletcher, who is hoping to get several of his corps of 3-year-olds to Louisville on the first Saturday in May. Among his top prospects are Value Plus, Shaniko, Chapel Royal, Battle Hero, and Limehouse, although he says multiple stakes winner Chapel Royal is not considered a Derby candidate and will be kept at shorter distances.At 5:30 a.m. on Jan. 14, a van pulled into the main gate carrying Michael Dickinson's exciting star, Tapit, brilliant winner of the Laurel Futurity (gr. III). The gray son of Pulpit settled into his winter home in Barn 40, surveying his new surroundings. Dickinson's other Derby prospect, Paddington, second in the Nashua Stakes (gr. III), is currently getting ready up in Ocala, and will join Tapit shortly.Atop the trainer's stand, located on the far turn, trainer Rick Violette watched his big horse, Read the Footnotes, gallop by. The New York-bred son of Smoke Glacken captured the Nashua (gr. III) and Remsen Stakes (gr. II), and is being pointed for the Fountain of Youth Stakes (gr. I). Violette is hoping his New York-bred can emulate the heroics of Funny Cide. The son of Distorted Humor stood quietly in his stall in nearby Barn 16, several days after winning his 4-year-old debut in a seven-furlong allowance race. Outside the barn hung a plaque, presented by Palm Meadows, honoring its star resident."I think this place is terrific," Violette said. "It'll be interesting to see if the racetrack holds up. It was outstanding last year. The track has been going through some changes, which is understandable. It's gone through another rainy season, so it's settled and is probably playing a little firmer. And there are twice as many horses here than there were last year. But even with the additional horses, the atmosphere has stayed pretty much the same. There's just less tension here."Among the other leading trainers stabled at Palm Meadows are Kiaran McLaughlin, John Ward, Jimmy Jerkens, Steve Margolis (who has Breeders' Cup Sprint winner Cajun Beat), Stanley Hough, Jim Bond, John Terranova, and Billy Turner. Those with horses at Palm Meadows and Gulfstream include Kenny McPeek and Dale Romans, as well as Zito.Palm Meadows was built with meticulous care by Gulfstream owner Frank Stronach, who has has seen to every detail to ensure top quality conditions for both man and horse. The state of the art training center, which covers 304 acres, opened its gates last year and managed to lure top horses trained by leading conditioners such as Pletcher and Zito. The track surface drew rave reviews for its quality and safety, and produced the Kentucky Derby (gr. I) winner Funny Cide and Kentucky Oaks (gr. I) winner Bird Town.When trainers returned this year, they found a new-look facility with several eye-popping additions. On the frontside now stand four cinderblock dormitories for the grooms that look as if they'd go like hotcakes had they been built as condos. Inside are 208 efficiency rooms that put typical grooms' quarters to shame. Next to the dormitories is a pavilion with a lounge for trainers and employees, complete with full kitchen and and concession stand, on the bottom floor. Encompassing the top two floors are 30 upscale rooms--fully furnished with patios--for trainers and assistant trainers.But Palm Meadows is about the horse, and the open-air barns are ideal for the horses to look out at all the activity and eye their neighbors across the road. A little neck stretching and they can nuzzle their new-found buddies in the stalls behind them and to the side of them.The number of barns has expanded from 24 to 40, and a picturesque row of 20 round pens, with top soil, adds to the ambiance, as does the new one-mile European-style jogging track that enables horses to take a break from their daily routine and exercise in a quiet, tranquil setting.Although the horse population has grown from about 700 last year to 1,150 this year, the new jogging track relieves a good deal of the congestion, according to general manager Gary Van den Broek, who said "99.9% of the facility was designed by (Stronach)."One thing trainers have noticed is that the track is playing faster this year. It had started off very deep last year, but gradually became quicker as horses trained over it. Van den Broek said the track surface is no different than last year, but added that two new water trucks were added to put much-needed moisture on the track.The future looks bright for Palm Meadows, as more and more trainers converge there each January. As the population grows, expect the facility to grow along with it. With Gulfstream's future uncertain, there has been a good deal of speculation what role Palm Meadows will play in the Florida racing industry. For now, it is a Thoroughbred haven that is turning out top-class horses. On the grueling path up racing's highest peak, the Triple Crown, it provides 3-year-olds with a relaxing, country-like atmosphere before their final climb to the summit.



Copyright © 2015 The Blood-Horse, Inc. All Rights Reserved.