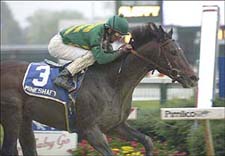 The Pimlico Special carried a purse last year of $600,000. Mineshaft won. If he becomes Horse of the Year as expected, then he would be the 13th winner of the Pimlico Special to earn Horse of the Year the same year. Still, the race could fall victim to the tight noose of tough times that's strangling racing in Maryland.

"There's no question that cutting stakes diminishes the quality of the racing program," Wright said. "At the same time, you only have so much money to spend. Can you afford to drive a Jaguar or a Chevrolet?"

Raffetto said he's not looking for another fight with horsemen. He said he plans to meet with them soon to discuss the Pimlico Special and other pressing issues.