High Priority
by Ray Paulick
Date Posted: 1/13/2004 9:19:30 AM
Last Updated: 1/14/2004 2:18:34 PM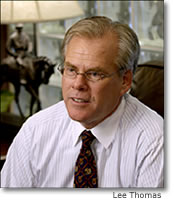 Ray Paulick
Editor-in-Chief


This year-end headline could not have gone unnoticed by anyone operating a racing stable--large or small--or by the leaders of organizations whose mission is to improve the economics of the Thoroughbred industry: 2003 Handle Up Slightly, But Purses Decrease. It is the continuation of a troubling trend, where a smaller percentage of each dollar wagered finds its way back into purses. How is this happening? In part, the growth of simulcasting has led to the creation of companies in the pari-mutuel wagering industry that are not affiliated with live racing, from Indian tribes to account wagering companies to off-shore entities. Their cut of simulcasting revenue goes into their own pockets, not into a purse program for horsemen. These companies have the leverage to share their profits with their best customers in the form of rebates, and many of them do just that after poaching big bettors from the racetracks or off-site betting shops. The percentage of the total wagering pool in the United States that now passes through these non-racing-affiliated operations is growing, and the result is a drop in contributions toward purses. Total purses for 2003 were down 1.86%, a slightly larger drop than the decline in the number of racing days, which fell 1.60%. But consider all the excitement surrounding Funny Cide in the Triple Crown, which brought new fans to racing and lured back some of the sport's "occasional" patrons. And what about Seabiscuit? Didn't that old-timer have a positive effect on the business after 20 million people saw the movie based on his life? How much worse would it have been without those two positive developments? In addition, millions of dollars from slot machine revenue were added to purses in 2003: Delta Downs had $7 million more in prize money than the previous year; Sunland Park $4.3 million; Louisiana Downs almost $2 million. If not for the new slot revenue in 2003, purses would have fallen further. Tim Smith, commissioner of the National Thoroughbred Racing Association, said in a statement the decline in 2003 purses (which followed an uptick of only 0.63% in 2002) "is a serious concern and will be a priority matter for the NTRA and like-minded industry organizations." Purses in the U.S. enjoyed a good ride in the 1990s, increasing from $714.5 million in 1990 to $962.9 million in 1999, a 34.7% jump. Over the last four years, however, they have inched upwards by just 2.2%, from $1.03 billion in 2000 to $1.05 billion in 2003. If the decrease in purses is due in part to the shifting of dollars to non-racing-affiliated operations, it follows that racetrack owners are suffering a similar decline in revenue. If so, many tracks are facing cutbacks in personnel or in other parts of their operations, neither of which is a healthy sign for the industry. The total pari-mutuel handle grew by 0.9% in 2003, a difficult year for many businesses hampered by an economy struggling to recover. Rebaters claim they are bringing new customers into racing, people who might otherwise have been putting their money into other forms of gambling, or perhaps the stock market. If that were the case, though, wouldn't these big bettors have led to a larger increase in handle for the year? It seems obvious the rebaters are shifting money from one pocket in the pari-mutuel business to another. But there are holes in the pocket where an ever-increasing amount of the total handle is being diverted. Commissioner Smith has it right. This issue has to be a priority in 2004, but not just for the NTRA. Every racetrack and every horseman's organization doing business with a non-racing-affiliated wagering operation should examine whether or not the dollars those companies are handling are helping or hurting their bottom line. Taking action against these companies may be a difficult next step, but more and more it looks as though it will be a necessary one to take.



Copyright © 2015 The Blood-Horse, Inc. All Rights Reserved.