Prominent Owner-Breeder W. T. Young Dies at Age 85
Date Posted: 1/13/2004 9:37:24 AM
Last Updated: 1/15/2004 4:09:01 PM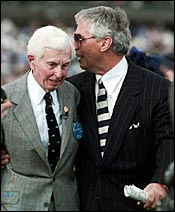 W. T. Young, left, and trainer D. Wayne Lukas, after Grindstone won the 1996 Kentucky Derby.
Photo: Associated Press/Ed Reinke

By Ron Mitchell and
Dan Liebman
William T. Young, a major Thoroughbred owner-breeder who operated Overbrook Farm near Lexington, Ky., died Monday at his home in Gulf Stream, Fla. He was 85.Young is survived by his son, Bill Young Jr., and Lucy Boutin Hamilton, who among other things serves as a member of the National Thoroughbred Racing Association's Political Action Committee.In keeping with his wishes, Young's family said arrangements were private and that there would be no public visitation."This is a major, major loss to racing," said Young's longtime trainer and friend, D. Wayne Lukas, "but his influence reaches far beyond the racing community. Far beyond it. I've always said that you could mail a post card to Bill Young, Kentucky, and it would probably get to him. He has touched so many people's lives. "He meant so much to me. I don't know that anyone has had a bigger influence on my life. We were very, very close. We would talk in the evenings, and every time he'd hang up, he'd say, 'I love you.' He let his emotions show, his kindness, generosity..." Ric Waldman, who advised Young for 17 years, said, "We had a very special relationship, one that bridged employer, friend and mentor. How full his life was, how much he got out of life."Noting that Young got involved in the Thoroughbred industry after a successful business career, Waldman said, "It did a lot for him and he did a lot for it."Young began building a broodmare band in the late 1970s and started development of Overbrook in the 1980s. The farm, home to more than 100 broodmares, now totals more than 2,300 acres.Young received an Eclipse Award in 1994 as the nation's outstanding breeder and in 1999 was named Breeder of the Year by the Thoroughbred Owners and Breeders Association.Among the top horses raced by Young were Kentucky Derby (gr. I) winner Grindstone and Belmont Stakes (gr. I) winner Editor's Note. He was also co-owner with David Reynolds of Preakness Stakes and Belmont winner Tabasco Cat, as well as Breeders' Cup race winners Cat Thief, Flanders, and Boston Harbor.One of Young's greatest successes as a breeder, however, came with Storm Cat, a horse who was not a classic winner or champion but went on to become North America's leading sire, commanding a stud fee of $500,000. In Storm Cat's early years at stud, Young was forced to foal share and offer free seasons to breeders who owned mares he thought crossed well with the horse. His belief in Storm Cat eventually paid off.A graduate of the University of Kentucky with a degree in mechanical engineering, Young founded W. T. Young Foods, which manufactured the peanut butter brand that eventually became Jif after being sold to Procter & Gamble. He also achieved success in the trucking and warehousing industries in Central Kentucky.Young was a director emeritus of Churchill Downs and a member and former steward of The Jockey Club.In addition to his horse industry involvement, Young was active in Lexington civic, community, and educational endeavors.He was a former board chairman of Transylvania University and a former University of Kentucky trustee. He has been a major contributor and supporter of the University of Kentucky, donating $5 million for the construction of a new library that bears his name.



Copyright © 2015 The Blood-Horse, Inc. All Rights Reserved.