Gross, Average Soar During First Session of Keeneland January Sale
by Deirdre B. Biles
Date Posted: 1/13/2004 9:35:14 AM
Last Updated: 1/14/2004 2:23:15 PM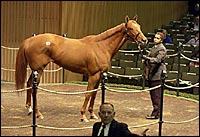 Spring Meadow, one of two mares sold for $800,000 at Keeneland's first session Monday.
Photo: Anne M. Eberhardt

Topped by a pair of $800,000 horses -- La Galerie and Spring Meadow -- the Keeneland January mixed sale got off to a strong start Monday in Lexington. La Galerie, an Argentine champion who was carrying a War Chant foal, sold to Betty Mabee of Golden Eagle Farm in California. Spring Meadow, winner of the 2003 Las Flores Handicap (gr. III), went to Charlotte Weber of Live Oak Stud in Florida.In all, 226 horses were sold for a gross of $14,861,100, an average of $65,757, and a median of $30,000. Compared to last year's first session, when 208 horses were sold, the gross and average were up 39.1% and 28.0%, respectively. The median was the same. The buy-back rate fell from 34.2% last year to 29.8% this year."The comment that I made earlier on that this was a typical January sale held through," said Geoffrey Russell, Keeneland's director of sales. "With the strength of the market, we thought there were a couple of mares that could break loose, and they did. Spring Meadow was obviously one. But the mare in foal to War Chant surprised me a little bit. Big and beautiful is what the buyers want. The whole day, from start to finish, went to where we thought it would be.""We're delighted to see people like Mrs. Mabee back in buying mares. She has been a great supporter of the Thoroughbred industry. Mrs. Weber has been a great supporter of this sale; we're delighted with her participation, too."Rick Trontz of Hopewell Farm, signed the ticket on the behalf of Mabee for La Galiere. Mabee was the session's leading buyer, spending $2.2 million for seven broodmares and one broodmare prospect. "She's great physical; she's a great outcross; and she's a great race mare," said Trontz of La Galerie. "She's in foal for the first time on the first cover to a young sire that has been well-received. There's nothing but blue sky."La Galerie, an 8-year-old daughter of Southern Halo, is a full sister to Argentine group I winner Gouache, who is the dam of Argentine champion Guernika (by Luhuk). La Galerie also is a half-sister to Argentine group I winner Apeles (by Senor Pete). Their dam, Aquarelle (by Logical), was a stakes winner in Argentina."That was a pretty good price," said Trontz of his $800,000 bid for La Galerie. "You'd always like to get them for a little less."Three Chimneys Sales, agent, consigned La Galerie. The mare was owned by Three Chimneys Farm owner Robert Clay and Gary Biszantz of Cobra Farm. "She's trying to upgrade and add some new blood to her broodmare band," said Trontz of Mabee. "She'll have a commercial operation. She'll sell some, and she'll keep some to race. It will depend on the individual foal."Following the death of her husband, John, in 2002, Mabee said she would stay in the business, but would be reducing the number of horses she owned. Her January participation is her first significant purchasing venture since her husband died.Trontz said Mabee would have made a big effort to buy mares at last year's Keeneland November breeding stock sale, but "the fires in Southern California put a crimp in her plans." A division of Golden Eagle suffered some fire damage."She's still in the business, and she's going to stay in the business," said Trontz, who boards approximately 20 of Mabee's mares at his Hopewell Farm in Kentucky.A flashy chestnut, Spring Meadow was sold as a broodmare or racing prospect. She is a 5-year-old daughter of Meadowlake out of the unraced Mr. Prospector mare Go for It Lady. Spring Meadow won three stakes in addition to the Las Flores and finished second or third in six added-money events (three of them grade Is)."Typically our program is we come in to the sale; we go through the catalogue; and we try to find THE best mare in the sale," said Eric Hamelback, the general manager of Live Oak Stud. "Michael Youngs (a Live Oak adviser) and I felt like Spring Meadow was definitely the best mare in the sale. She has the pedigree, and she has the race record. We do not intend to race her. We are going to retire her as she is and breed her. The mating has not yet been determined. Obviously, we could go several different ways with her."Darby Dan Farm consigned Spring Meadow as agent for David Shimmon and Bill Bianco's Fog City Stable. Shimmon purchased Spring Meadow for $200,000 at the 2001 Ocala Breeders' Sales Company sale of 2-year-olds in training.Another big price during the first session was the $550,000 brought by Virginie, a Brazilian champion and grade I winner in North America. Aki Kato, agent for Isami Nakamura, purchased the 10-year-old daughter of Legal Case from Denali Stud, agent. Virginie was produced from the winning Baronius mare Misty Moon and is a half-sister to Brazilian champion Be Fair (by Fast Gold). Virginie sold in foal to Giant's Causeway.The Keeneland January sale runs through Friday, with sessions beginning at 10 a.m. (EST) each day.Results from Keeneland--Session 1, Monday, Jan. 12



Copyright © 2015 The Blood-Horse, Inc. All Rights Reserved.