Funny Cide Easy Allowance Winner in 2004 Debut
by Scott Davis
Date Posted: 1/10/2004 5:58:13 PM
Last Updated: 1/11/2004 4:29:26 PM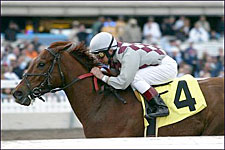 Kentucky Derby and Preakness winner Funny Cide, with Jose Santos aboard, runs to an easy victory in his 2004 debut, Saturday at Gulfstream Park.
Photo: AP/Equi-Photo, Bill Denver

Kentucky Derby (gr. I) and Preakness Stakes (gr. I) winner Funny Cide made an auspicious return to the races at Gulfstream Park on Jan. 11, drawing off for an impressive five-length win over American Style in a seven-furlong money allowance race.Reunited with jockey Jose Santos, aboard for the first ten starts of the gelding's career, Funny Cide completed the seven-furlongs over a fast track in 1:22.83. The popular choice in the field of five paid $2.80 to win.The $46,000 purse was the first start of the year for the 4-year-old and his first race since a ninth-place finish in the Oct. 25 Breeders' Cup Classic -Powered by Dodge (gr. I). It was his first victory since consecutive wins in May's Kentucky Derby (gr. I) and Preakness Stakes (gr. I) made him and ownership group Sackatoga Stable national celebrities.

"It's wonderful to get him off to a great start this year," said Jack Knowlton, managing partner of the nine-person syndicate. "There were a lot of bumps in the road after the Triple Crown so this is more what we expect from him."Lively and affable personalities helped Knowlton and his partners, based in the small, upstate New York town of Sackets Harbor, surge into the national limelight in 2003. And though only Knowlton, David Mahan and Gus Williams were on hand today, those personalities once again shined through. At one point Williams was asked by a fan why he wasn't wearing the outrageously colored clothing for which he had become known. "I can go home and get the uniform if you'd like," he shouted back.With a string of fast workouts under his belt, the New York-bred son of Distorted Humor was eager and broke alertly to the lead from an inside post. He was quickly joined by American Style, New York Hero, and Justification and the four were strung across the track at the half-mile pole.Funny Cide assumed control heading into the turn, however, and expanded his lead to the wire while under only moderate urging."I thought about stalking because I didn't want him to do too much, but I didn't want to take him off his stride so I let him go," said Santos. "He was doing it all himself, making all the fractions. In the stretch I tapped him once but he didn't need it. He was very strong today.""I expected him to be eager. That's why I wanted him to go seven-furlongs," explained trainer Barclay Tagg. "If I'd have run him two-turns a lot more could have happened. This was a great confidence builder and it helped him get fit without knocking him out."The trainer indicated that Gulfstream's Donn Handicap (gr. I) on Feb. 7 was a likely next start for Funny Cide, and Knowlton discussed future early season races such as the New Orleans Handicap (gr. II), Oaklawn Handicap (gr. I), Pimlico Special (gr. I), and Steven Foster Handicap (gr. I) as targets. "But we don't have the same pressure to make any specific race this year," said Knowlton. "Once you're on the Triple Crown trail your agenda is pretty well set. Now, if we miss any race we can come back next year and try again.""My main goal is to have him running for four or five years, and because he's a gelding that may be possible," Tagg added. "I want to make a lot of money with him, keep him happy and keep him famous."The trainer also spoke at length about Funny Cide's dislike for warm, humid weather which he feels contributed to his sub-par efforts last year in the Breeders' Cup and Haskell Handicap (gr. I). Because of it, he has ruled out a start in the Dubai World Cup (UAE-I) and considers unlikely this year's Breeders' Cup, to be held at Lone Star Park in Texas.But Gulfstream was overcast and unseasonably cool on this day, with a post-time temperature of about 66 degrees. "This was perfect," Tagg smiled.(Chart, Equibase)



Copyright © 2015 The Blood-Horse, Inc. All Rights Reserved.