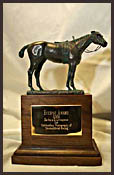 Daily Racing Form.Previously, each entity represented a bloc vote, which at times has led to controversial decisions when the person or horse with the most first-place votes did not win. In another change this year, voters were required to list in order their top three candidates in each category, instead of just one.The change to a popular vote puts the balance of power in favor of the NTWA, which was represented by 128 votes. Daily Racing Form cast 55 ballots, and the NTRA and Equibase combined for 51, 24 of which were employees of Equibase.The Eclipse Awards finalists (in alphabetical order) are: 2-Year-Old Male: Action This Day, Birdstone, Cuvee
2-Year-Old Female: Ashado, Halfbridled, Victory U.S.A. 3-Year-Old Male: Empire Maker, Funny Cide, Ten Most Wanted
3-Year-Old Female: Bird Town, Elloluv, Six Perfections Older Male: Congaree, Medaglia d'Oro, Mineshaft
Older Female: Adoration, Azeri, Sightseek Sprinter: Aldebaran, Cajun Beat, Congaree Male Turf Horse: High Chaparral, Johar, Storming Home
Female Turf Horse: Heat Haze, Islington , Six Perfections Steeplechase: McDynamo, Pelagos , Praise the Prince Owner: Edmund Gann, Juddmonte Farms, Michael Gill Breeder: Adena Springs/Stronach Entities, Flaxman Holdings & Niarchos Family, Juddmonte Farms Trainer: Robert Frankel, Richard Mandella, Todd Pletcher Jockey: Edgar Prado, Jerry Bailey, Patrick Valenzuela Apprentice Jockey: Eddie Castro, Pablo Fragoso, Ryan Fogelsonger The Eclipse Awards are named after the18th-century racehorse and sire Eclipse, who began racing at age five and was undefeated in 18 starts, including eight walkovers. Eclipse sired the winners of 344 races, including three Epsom Derbys.