Joe Taylor, Longtime Gainesway Manager, Dies in Auto Accident
Updated: Monday, December 22, 2003 1:35 PM
Posted: Monday, December 22, 2003 9:14 AM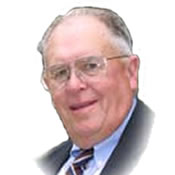 Photo: Taylor Made Farm
Kentucky farming pioneer Joe Taylor, victim of icy roads.
Joe Taylor, the legendary Kentucky farm manager who literally wrote the book on how to breed and raise racehorses, was killed in a two-car accident on an ice-slickened Tates Creek Road on the south side of Lexington early Friday evening.Taylor, 79, was the longtime farm manager for Clarence Gaines and his son John, first raising Standardbreds and then Thoroughbreds at Gainesway Farm in Lexington. The association, which began in 1950, ended May 10, 1990, not long after John Gaines sold Gainesway to Graham Beck. During his tenure, Taylor was president of the Kentucky Thoroughbred Farm Managers Club and was named the 1975 farm manager of the year.The week before his retirement was announced, Unbridled, a horse Taylor raised at Gainesway for Frances Genter, won the Kentucky Derby. Twelve years later, while participating in a farm managers round table with
The Blood-Horse
Taylor talked about the win. "The best horse I raised was a Standardbred," he said. "But Unbridled was the horse, the Thoroughbred that I raised that I had the biggest thrill out of ... I got a great thrill out of him racing. Mrs. Genter was 92 years old; Carl Nafzger was there. I think that was the most classic Derby of all from that scene."Three years after his retirement from Gainesway,
Joe Taylor's Complete Guide to Breeding & Raising Racehorses
was published by the Russell Meerdink Company. The book was a virtual "how-to" guide for the horse owner or breeder, beginning with sections on how to choose the proper land, the best way to lay out a farm, with advice on fencing, barns, pastures, and people. Subsequent sections give tips on choosing the right advisors, selecting broodmares and stallions, and how to manage a horse farm.But Taylor did more than offer business advice. The book was a personal tale, too, reflecting his philosophy of life and commitment to family. "Life around horses is its own reward," he wrote. "Look past the dollar signs on each horse and enjoy the animals for their beauty. Remember the Bedouin saying that your pregnant mare has 'treasure in her belly' and enjoy her pregnancy and foaling for the miracle that it is. Enjoy the foal racing in the pasture for its own sake. Feed your racehorses carrots and kiss them on the nose. Keep a pensioner if it pleases you.
Enjoy your horses
."The book's final paragraph reads: "Remember your family and your values. All the racing success in the world can't begin to replace the small accomplishments of sons and daughters, grandsons, and granddaughters. Make time for them. Make time for going to church, for doing charity or volunteer work or whatever is in your power to make this a better world. Be thankful for what God had given you and be at peace with what He has not. If you are kind to your horses and your family and grateful to God, you are a success already.
Make time for God and family
."Taylor spent most of the last decade assisting his family run Taylor Made, which has grown substantially since its formation 25 years ago and now – with sales, boarding, and stallion divisions -- is one of the largest Thoroughbred operations in the world. Eldest son Duncan started the farm while a college student in 1976. Brothers Frank, Ben, and Mark joined later."I started the farm," Duncan Taylor told
The Blood-Horse
in 1996, "but I just happened to be the oldest. I think if Mark had been the oldest, he would have probably started the farm, because our dad always taught us from the time we were little: 'If you boys stick together and help each other, you can get a lot more accomplished that way than trying to do it on your own." Joe Taylor was instrumental in helping Taylor Made launch its stallion division in 1997.Born Joseph Lannon Taylor in Franklin County, Ky., Taylor was drawn to the horse industry at an early age. "I don't think I could ever have done anything in my life that I'd have been more satisfied with than being in the horse business," he told
The Blood-Horse
at the time of his retirement from Gainesway. He began his career as a Standardbred trainer but didn't think the nomadic lifestyle was conducive to raising a family, so he gave that up for farm life. "I was part of an enterprise that bred and owned the winners of every major trotting horse race in North America, including the Hambletonian Stakes twice and the Kentucky Futurity three times," Taylor said of his early years with the Gaineses. "The highlight of my trotting horse days was the breeding, racing and development of Classical Way, 1:55 2/5, the world's fastest trotting mare and the only horse to ever be crowned both American champion and European champion."I would say that my greatest thrill in the Thoroughbred world was to have been an instrumental part in seeing six Gainesway stallions lead the world's sire list, the American sire list, or the European sire list: Bold Bidder, Vaguely Noble, Lyphard, Blushing Groom, Riverman, and Sharpen Up."The day after Taylor's death, John Gaines reflected on his half-century friendship with Taylor and on his impact on the horse industry. "The sports of Standardbred and Thoroughbred racing have lost one of its premier horsemen, and one of its very best people. And I lost a beloved comrade of over 50 years. Joe Taylor probably helped more people achieve their goals than anyone else in racing. His influence is profound and he will be long remembered and mourned by all."Taylor is survived by his wife, Mary Emily Marshall Taylor, his aforementioned four sons and two daughters -- Emily, who also is involved with Taylor Made, and Mary Jo Quinn. Visitation will be Sunday, Dec. 21, at Christ the King Cathedral (299 Colony Boulevard in Lexington), from 4-8 p.m., with a 7:30 p.m. Rosary Prayer led by Bishop Ronald Gainer. On Monday at Christ the King Cathedral at 6:15 p.m. Father Paul Prabell will preside over a vigil service, followed by visitation from 6:30-9 p.m., with Eucharistic Adoration until 8 a.m. Dec. 23.On Tuesday at 11 a.m., a Funeral Mass will be presided by Bishop Ronald Gainer, with lunch immediately following Mass at Hehman Hall. There will be 3 p.m. burial at Lexington Cemetery.In lieu of flowers, the family has asked for donations to Perpetual Adoration Fund for Christ the King Cathedral, care of Father Patrick Fitzsimons, 299 Colony Boulevard, Lexington, KY 40502.
FREE! E-Newsletters from The Blood-Horse!...
Follow the top stories of major racing events, racing previews and results with FREE e-newsletters from bloodhorse.com. As news develops, we'll deliver updates to your inbox. Follow important events moment by moment, step by step!