Krone Severely Bruised, Released by Hospital
by Blood-Horse Staff
Date Posted: 12/13/2003 5:52:28 PM
Last Updated: 12/15/2003 7:17:10 AM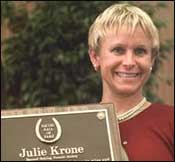 Jockey Julie Krone, injured in Friday spill.
Photo: Associated Press

Hall of Fame jockey Julie Krone was released early Saturday morning from Centinela Hospital in Inglewood after suffering upper body injuries in a nasty two-horse spill Friday afternoon at nearby Hollywood Park.According to Dr. Steven Schwartz, the on-call orthopedist at Centinela, Krone sustained severe bruising in the areas of her upper chest and right shoulder, but that there were no fractures detected on x-rays, either to her spine or her ribs.Though initial x-rays were negative, Krone will seek a second doctor's opinion.

Krone, currently atop the rider standings at Hollywood with 23 wins, said she would be consulting with Dr. Tom Harris, her personal orthopedic surgeon, early next week. In terms of a return to competition, she described her status as "day to day" until she received a more complete diagnosis.Krone was to undergo an MRI early Saturday morning to determine the extent of her injuries, but that was procedure was not performed. Krone's husband, writer Jay Hovdey, said Friday night that Krone experienced soreness in her chest area, the result of several ligaments which were torn from her sternum during her fall. The 40-year-old rider was admitted to the Los Angeles hospital shortly after the incident, which took place in the third race.Krone was violently thrown to the track on the backstretch when her mount, the claiming horse Clover Situation, could not avoid the fallen Skidoo, who fractured his right foreleg. Skidoo was subsequently euthanized, though his jockey, David Nuesch, and Clover Situation were apparently unharmed. This is the second major accident to sideline Krone this year. In early March, she suffered a severe back problem in a mishap at Santa Anita. Following her return four months later, Krone became the first female to win a million-dollar race when Candy Ride took Del Mar's Pacific Classic (gr. I) in August. This fall, she broke further ground at Oak Tree when she rode 2-year-old filly Halfbridled to victory in the Breeders' Cup Juvenile Fillies (gr. I), a first for a female rider. More recently, Krone captured four graded stakes over the Nov. 27-30 weekend at Hollywood, including a front-running triumph on Sweet Return in the $600,000 Hollywood Derby (gr. I).Nuesch, 34, walked to the ambulance. A former leading rider at Emerald Downs, he began riding on the Southern California circuit earlier this year.(Chart, Equibase)



Copyright © 2015 The Blood-Horse, Inc. All Rights Reserved.