Wando Honored as Canada's Horse of the Year
by Ron Mitchell
Date Posted: 12/6/2003 10:47:37 PM
Last Updated: 12/8/2003 7:58:31 PM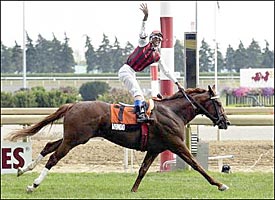 Wando, Canadian Triple Crown winner named Horse of the Year in Canada.
Photo: Associated Press

Gustav Schickedanz's homebred Wando, who became the first horse in 10 years to sweep Canada's Triple Crown, was crowned Canadian Horse of the Year and top 3-year-old male when Sovereign Awards were announced Saturday during a ceremony at the Fairmont Royal York Hotel in Toronto. Wando became the seventh to sweep the Triple Crown series – the Queen's Plate, the Prince of Wales and the Breeders' Stakes – since it was started in 1959. The last was Peteski in 1993. The others were Dance Smartly (1991), Izvestia (1990), With Approval (1989), Canebora (1963) and New Providence (1959).Wando won five of eight starts and earned just over $2 million in 2003. He took Woodbine's Queen's Plate on June 22 by nine lengths and the July 20 Prince of Wales at Fort Erie by four. Wando completed the Triple Crown sweep with a 1 1/2-length victory in the $500,000 Breeders' Stakes on the turf at Woodbine in August.A son of Langfuhr, Wando is out of the Woodman mare Kathie's Colleen, a grade II winner who is a half sister to grade I-winning Beau Genius.Here is the complete list of winners of Sovereign Awards, which are sponsored by the Jockey Club of Canada.HORSE OF THE YEAR, CHAMPION 3-YEAR-OLD MALE: WandoOUTSTANDING BROODMARE: Radiant Ring

CHAMPION 2-YEAR-OLD FILLY: My Vintage PortCHAMPION 2-YEAR-OLD MALE: Judiths Wild Rush

CHAMPION 3-YEAR-OLD FILLY: Too Late Now CHAMPION 3-YEAR-OLD MALE: Wando CHAMPION OLDER FEMALE: One for RoseCHAMPION OLDER MALE HORSE: Phantom Light CHAMPION SPRINTER: Soaring FreeCHAMPION MALE TURF HORSE: Perfect Soul

CHAMPION FEMALE TURF HORSE: Inish GloraOUTSTANDING JOCKEY: Todd Kabel OUTSTANDING APPRENTICE JOCKEY: Julia Brimo

OUTSTANDING TRAINER: Robert TillerOUTSTANDING OWNER: Stronach Stable

OUTSTANDING BREEDER: Sam-Son Farm OUTSTANDING PHOTOGRAPH: Michael Burns, Jr.OUTSTANDING FILM/VIDEO/BROADCAST: Horse Racing Alberta & White Iron ProductionsOUTSTANDING NEWSPAPER STORY: Paul Wiecek
OUTSTANDING FEATURE STORY: Paul Wiecek

More information, from Sovereign Awards program (PDF files)



Copyright © 2015 The Blood-Horse, Inc. All Rights Reserved.