Join the Club
by Ray Paulick
Date Posted: 12/2/2003 10:30:36 AM
Last Updated: 12/3/2003 11:16:03 AM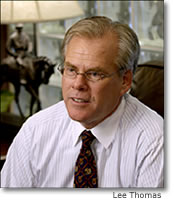 Ray Paulick
Editor-in-Chief


People involved in racing partnerships often say they don't mind sharing with others their (to borrow from broadcaster and Thoroughbred breeder Jim McKay) "thrill of victory" or "agony of defeat." No doubt it's nice to have someone to split the training and veterinary bills with, too. Most American partnerships involve less than a dozen individuals per horse, but even then the cost makes it prohibitive for many people who might want to take part in ownership but simply cannot afford investments of tens of thousands of dollars or more. For years, Japanese racing has offered opportunities for horse racing enthusiasts to participate as owners for a fraction of what is required to join most American partnerships. Called horse clubs, these syndicates often involve hundreds of individuals who are commonly referred to as "paper owners." Tap Dance City became a walking advertisement for horse clubs when he romped to a nine-length victory in this year's Japan Cup (Jpn-I). Five hundred shares in the horse were sold by the Yushun Horse Club at 60,000 yen each (between $500-$600). Most club members bought just one share, meaning there are hundreds of "paper owners" who can claim having won the 23rd running of the Japan Cup. That doesn't mean there are several hundred people with a condition book in their back pockets, and trainer Shozo Sasaki's cell phone number on their speed-dial list. The Japan Racing Association didn't have to accommodate each syndicate member with a box on the finish line, either. But horse clubs have been an important part of Japanese horse racing, especially during the prolonged economic slump that has limited investment in Thoroughbreds by wealthier individuals in Japan just as it has in the United States. In the U.S., the term "horse shortage" has become common, but it is a misnomer. Fact is, there is a shortage of horse owners. Recent tax breaks have improved the prospects for growth in the ranks of owners, as has the existence of well-run partnerships that have brought hundreds of new owners into the game. There certainly are obstacles to overcome before the horse club concept can be introduced to American racing. But considering the ongoing need for additional Thoroughbred owners and the potential pool of millions of racing fans who might be interested in owning a small share in a horse, it is something worth considering. Years ago, the Japanese were accused of taking an idea or product from the West and copying it. Perhaps it's time we copy some of their best ideas. BETTER QUARANTINE One reason the Breeders' Cup World Thoroughbred Championships has attracted so many foreign competitors is a smooth but effective quarantine program. Horses go into an isolation barn at the track where the races are run and miss virtually no training time before they compete. Japan's quarantine guidelines put foreign runners at a disadvantage because they are forced to spend five days (not including the days of arrival and departure) at a quarantine center away from the track. The latest critic of the Japanese program is not an American, but Japanese owner Fusao Sekiguchi, best known for racing Kentucky Derby (gr. I) winner Fusaichi Pegasus. Sekiguchi bought American-trained Denon to compete in this year's Japan Cup and also owns a portion of Sarafan, an American-based runner who had to spend nearly a week in quarantine before moving to the Tokyo Race Course. "Although the JRA has been eagerly announcing its internationalization program for many years, the actuality of the fact is that it is not at all visitor friendly," Sekiguchi said. "There are too many major disadvantages for the foreign contenders to be encouraged to come to Japan." Sekiguchi is not afraid to stir the waters. Especially when he is right.



Copyright © 2015 The Blood-Horse, Inc. All Rights Reserved.