Kentucky Derby Trail: Seek and Ye Shall Find
by Steve Haskin
Date Posted: 11/20/2003 11:38:43 PM
Last Updated: 2/13/2004 10:45:05 AM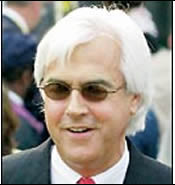 Bob Baffert, strong arsenal of 2-year-olds.
Photo: File

This is the seventh in a series of early looks at next year's potential Derby horses. Times are changing, and big-name trainers are looking for Derby horses wherever they can find them. Despite his usual abundance of promising colts, Bob Baffert already has added two new horses.If you look back to last winter and the barrage of offers that were made by big-name trainers for a dead-heat allowance winner named Senor Swinger, it is clear that a new trend is developing on the Derby trail. It was Baffert who finally bought Senor Swinger for Bob and Beverly Lewis following offers by Bobby Frankel, Nick Zito, and Coolmore.Frankel, with the help of Mark Reid, has plucked young, lightly raced colts, such as Medaglia d'Oro, Midas Eyes, and Labamta Babe, out of places like Oaklawn Park, Calder, and Ellis Park. He also tried to buy Turfway Park-based Perfect Drift early in 2002.Well, there have been two big fishes splashing about in their little ponds who have begun to create some mighty big waves. One of them, Misty'sgoldentouch, has already been bought by Baffert after one 6-furlong maiden victory at Sam Houston. Yes, that's right, Sam Houston. And we're talking about a horse who was a buy-back for $37,000 as a weanling. He then failed to meet his reserve again at a Texas yearling sale and was bought back for a meager $15,000.So, what attracted Baffert to this smallish colt that nobody wanted for practically nothing? First off, he won that maiden race by 6 3/4 lengths, and Baffert loved the way he moved. Secondly, he's by Touch Gold, and his female family is awesome. Never heard of his broodmare sire, Lucky So n' So? Well, he's by Alydar, out of the Calumet Farm stakes winner Spring Sunshine, who is by Nashua out of the great Real Delight, champion older mare and winner of the CCA Oaks, Kentucky Oaks and numerous other stakes. Also from Real Delight have come CCA Oaks winners and champion 3-year-old fillies Our Mims and Christmas Past.Never heard of his maternal great-grandsire, Blood Royal? He's a two-time group winner who could run all day, and he's by Ribot out of Alabama winner Natashka, and is a full brother to Irish One Thousand Guineas winner Arkadina, who is the dam of Irish St. Leger winner Dark Lomond. Blood Royal also is a three-quarter brother to group I winner Gregorian and a half-brother to Test winner Ivory Wand. Not a bad pedigree for a $15,000 buy-back at Sam Houston. So, it's no surprise that Misty'sgoldentouch has a 1.67 DI. Whether Baffert found the proverbial pearl in the oyster we'll find out soon enough.Another horse who has created a buzz off the beaten path is Hi Teck Man, who has won three of his four starts at Turf Paradise and Albuquerque, including a 6 3/4-length romp in the 7-furlong A.C. Kemp Handicap in his last start. He's won at 4 1/2 furlongs, 6 furlongs (in 1:09 3/5) and 7 furlongs, and is bred to run long. Although most people don't know his sire Claudius or his broodmare sire Corwyn Bay, this colt is inbred 5x4 to Buckpasser and inbred 4x5 (with the Rasmussen Factor) to Gay Hostess through her sons Majestic Prince and Crowned Prince. He's also inbred to Northern Dancer and has top-class European winners Caerleon and Irish River in his third generation. Let's see how long this colt stays in the Southwest, as offers have already been made for him. He has a beautifully balanced dosage profile of 2-1-7-1-1 and a 1.18 DI, which is about as low as you're going to find.More big-name 2-year-olds will emerge following the upcoming Remsen Stakes and Kentucky Jockey Club Stakes, and the Hollywood Futurity in December. Here are some promising colts to keep an eye on who have long-distance pedigrees. Rainbow Rider is definitely one to watch. Trained by Elliott Walden for WinStar Farm, this son of Unbridled's Song was very impressive breaking maiden by 7 lengths at Belmont in 1:23 2/5 for the 7 furlongs. Strong female family and a complete outcross, with 2.60 DI.Artie Schiller, second in the Pilgrim Stakes on grass for Jimmy Jerkens, will return to the dirt in the Remsen. He has a strong distance pedigree top and bottom and a 6-4-11-4-1 dosage profile and 1.48 DI.Judiths Wild Rush, has coming out of a $50,000 claiming maiden victory by 7 lengths at Woodbine to win the Display Stakes by 10 lengths in 1:43 2/5 for the 1 1/16 miles. Undefeated in three starts, the son of Wild Rush has a lofty DI of 5.00, due to lack of classic presences in female family, but broodmare sire Black Tie Affair won BC Classic, and there other decent influences to suggest he'll outrun his DI.Redskin Warrior, by Indian Charlie, has looked super in his last two starts, winning both by daylight in fast time. But he was vanned off after his last start. He's trained by Jennifer Pederson. DI of 3.00.Scat Sam Man has won his last two sprints in brilliant fashion for Tom Amoss. By Scatmandu, he's inbred three times to Northern Dancer and has a DI of 3.00. Was a $7,000 RNA at Keeneland September yearling sale.Tiger Heart, another son of Scatmandu, broke his maiden by 2 1/4 lengths, going 6 furlongs in 1:10 4/5 at Churchill for Kenny McPeek and Buckram Oak Farm. Broodmare sire is Silver Deputy, and maternal great-grandsire is Hawaiian Sound, who Bill Shoemaker nearly rode to a 25-1 upset of the English Derby, just getting nipped on the wire by Shirley Heights. DI of 2.43.Mach Speed is an A.P. Indy colt, out of a Forty Niner mare, and trained by Dallas Stewart for Overbrook Farm. Has shown a good closing kick in both his starts, and came from far back to just get up by head in a 1 1/16-mile maiden race. Dosage profile of 10-3-12-0-1 and DI of 2.71.Fire Slam, by Grand Slam, is undefeated in two sprints for David Carroll, but doesn't look like he wants anything to do with 1 1/4 miles. We mention him anyway, because he does appear to be a talented colt, and he's come from off the pace with powerful stretch runs in both his starts.Mr. Jester is a hard-knocking son of Silver Deputy who was placed first in the Kentucky Cup Juvenile, and has won and placed in stakes in Louisiana. Don't be misled by his 4.78 DI. He has enough stamina top and bottom to assure he'll get at least 1 1/8 miles, maybe farther. Fappiano and mile and a quarter record holder Quack in his female family.Harbor the Gold, trained by Wayne Lukas for Overbrook Farm, is a half-brother to Boston Harbor by Seeking the Gold who broke his maiden by 5 3/4 lengths in the mud at Aqueduct going a mile. Time was slow, but looked good doing it. DI of 3.00.Milestone Victory should relish the 1 1/8-mile distance of the Remsen if he runs. Third in the Pilgrim on the grass, he's by Dynaformer and has plenty of stamina in his female family. Strong dosage profile of 6-4-21-2-1 and a 1.52 DI.You want distance pedigree, you've got it in Mustanfar, a nose winner in a 1 1/8-mile maiden race at Aqueduct for Kiaran McLaughlin. By Unbridled, out of a Lyphard mare, his maternal great-grandsire is the top-class European distance horse Bustino, a son of major stamina influence Busted. Tail-female family is all Queen Elizabeth stamina breeding through classic fillies Highclere and her daughter Height of Fashion. You won't find better stamina than this, as indicated by 9-6-17-2-6 dosage profile and 1.42 DI.Two New York-breds worth watching, likely at shorter distances, are Read the Footnotes, winner of the Nashua Stakes, and West Virginia, a Todd Pletcher colt who has won his last two impressively in state-bred races. And keep an eye on stakes-placed Pa Pa Da when the distances stretch out. This son of Incurable Optimist has a very strong distance pedigree and will only keep improving the farther he goes.These are just some of the colts to keep an eye on. We'll catch up with the others as we go along.



Copyright © 2015 The Blood-Horse, Inc. All Rights Reserved.