Aqueduct Review: Another Improbable Comeback
by Blood-Horse Staff
Date Posted: 11/18/2000 4:53:36 PM
Last Updated: 11/25/2000 6:39:42 PM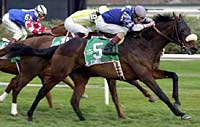 Cetewayo, ridden by Richard Migliore, captures Red Smith Handicap at Aqueduct Saturday. Understood (15) was second with jockey with Jorge Chavez up and Val's Prince (6) was third with Edgar Prado up.
Photo: Associated Press / NYRA / Adam Coglianese

By Robert Knolhoff Jr.
This article published in the Nov. 25 issue of The Blood-Horse
In light of the fact Cetewayo did not fully realize his lengthy stride until the closing yards of the Red Smith Handicap (gr. IIT), just his third start in two years, it was little surprise Richard Migliore still had his hands full with his winning mount a quarter-mile past the finish of their 11-furlong journey. Patiently awaiting the pair's return beside 12 already unsaddled participants, trainer Michael Dickinson gently exhaled and remarked, "Well, this is almost as exciting as Da Hoss." When your own patented philosophy makes such vivacious reappearances seem routine, you've earned the right to a little hyperbole. Cetewayo's dramatic victory in the Nov. 18 Red Smith will not be as widely documented as Dickinson's now fabled Breeders' Cup saga with Da Hoss. Still, he closed New York's turf stakes season on the storybook note of improbable comebacks witnessed all year. Just prior to Da Hoss' second Breeders' Cup Mile (gr. IT) victory, Cetewayo's 1998 rise into grade I New York company was the most prominent working model for Dickinson's revolutionary training program at his custom built Tapeta Farm in Maryland. Since that season, the 6-year-old son of His Majesty won his lone 1999 start and last appeared in July's United Nations Handicap (gr. IT), but his routine since has been anything but mundane. "I took a gamble in the United Nations, but I made the wrong decision," admitted Dickinson. "We gave him six weeks off after that race. He's easy to train, but difficult to gauge. To keep him interested in his work, we train over six turf courses. Some mornings he'll train over one, walk through a wooded trail, then work again over another. This gets him mentally sharp." The preparation was evident as a brightly alert Cetewayo walked with measured steps toward the paddock. Over a good turf subject to Dickinson's now customary morning inspection, Cetewayo settled inside and well behind the opening mile pace (1:39.41) of Bonaly. "He had a little trouble handling the course for that first mile or so," said Migliore. Anyone's race turning for home, 8-year-old Val's Prince surged to a brief lead, but he was soon joined by Jimmy Picou-trained stablemate Whata Brainstorm to his inside and Understood to his outside. Understood then appeared the winner, but from the outside a bottomless Cetewayo and firm steering from Migliore won out late with a neck decision. Understood, answering a stern class test, was three-quarters of a length ahead of a customarily determined Val's Prince. "Thank you so much," a breathless Migliore said softly to Dickinson upon returning. Dickinson reciprocated after joking with the popular rider, "I thought you were the superior dirt rider up here." "He really picked it up in the latter part of the race," said Migliore, who secured the ride in the 11th hour. "I was counting on a strong run as long as we could get in the clear." "I tell people what a fast horse he is, and they look at me like I'm crazy," said Dickinson assistant Allan Gorman. "But I count his final quarter-mile. Anyone can run fast at the start." Gorman recalled that Cetewayo and Val's Prince once sprinted home in :22 to complete a 1 1/2-mile grade I race. Cetewayo completed the Red Smith for owner Dr. John Chandler in 2:17.93. By 6 a.m. the next day at Tapeta, the bay colt was readied for his customary four-hour turnout. "He's a lazy horse, but some of the best ones are. We turn him out every morning from 6 to 10 before training, which keeps him fresh and happy," said Dickinson. While a relieved Dickinson listed appropriate short-term goals like Calder's W.L. McKnight (gr. IIT) in December, they might be best written in pencil. "So much credit," said Dickinson, "goes to his groom, Salvador Avila, who was more confident than anyone and has always been with Cetewayo, and of course to Dr. (John) Chandler, who gives us all the time we need. I was concerned he was not as good as he once was and could only hope the strong winds dried the course. We can talk about layoffs, but the bottom line is, it takes a good horse." "Good horses and extraordinary training," said a modest Migliore, "make my job a little easier." (Chart, Equibase)



Copyright © 2015 The Blood-Horse, Inc. All Rights Reserved.