Kentucky Derby Trail: Pletcher, Mandella Armies Ready for Winter Campaigns
by Steve Haskin
Date Posted: 11/11/2003 4:01:27 PM
Last Updated: 2/13/2004 10:43:50 AM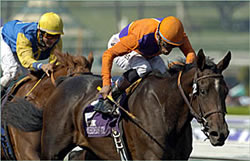 Breeders' Cup Juvenile winner Action This Day, trained by Richard Mandella.
Photo: Mike Corrado

This is the second in a series of early looks at next year's potential Derby horses. Todd Pletcher and Richard Mandella hold hot hands on opposite ends of the country. The next report will focus on Bob "See me in January" Baffert and the Godolphin/Darley team.Pletcher looked to have several big guns last winter, but failed to get any of them even close to the starting gate on Derby Day. This winter, Pletcher should have more numbers, as he is loaded with talented 2-year-olds. But several of them do appear to have distance limitations, so it's still too early to assess how many may develop into legitimate Derby contenders.Chapel Royal -- The son of Montbrook turned in one of the top performances in defeat in the Breeders' Cup Juvenile (gr. I) when he was the only horse to press the torrid early pace and be around at the finish. He actually opened up a clear lead in midstretch, only to tire in the late stages and finish third. He also ran huge in defeat in the Champagne, when he finished second after fighting on the front end early over a track that was not kind to speed horses. A two-time stakes winner, he has a ton of talent, but there is a question how far he wants to go. He has a DI of 3.57 and is inbred to Tom Fool. Pletcher is not convinced two turns will be his game, but you never know. Gorgeous individual and very athletic looking.Value Plus -- All we can do is wait to find out what this $1.1 million son of Unbridled's Song is really made of. After breaking his maiden by 8 3/4 lengths at Saratoga he has eaten up a ton of money, mainly because of his bad habits in and coming out of the gate. The ultimate faux pas was almost falling on his head one stride out of the gate in the Nashua Stakes (gr. II), unseating jockey John Velazquez as the 4-5 favorite. He grabbed his quarter pretty good, but will be back to fight another day. Female family is nothing to write home about, and his strong 2.11 DI is due to Unbridled. But he's a grand-looking colt who has a great deal of raw ability. Limehouse -- Looks like 1 1/4 miles might be a bit of a stretch. We're not sure yet how far the Grand Slams want to go, and his second dam, Blue Jean Baby, was a very fast filly going short. Does barely measure up with a 3.89 DI. Hard-knocking, consistent colt who ran well enough stretching out to two turns, finishing third in the Lane's End Breeders' Futurity, and has already won two stakes at Churchill Downs.Decibel -- Broke his maiden by 5 lengths going a mile at Aqueduct. Another Unbridled's Song, he is out of a Dayjur mare, which indicates he'll be better off at short and middle distances, but he has a decent tail-female line. Second dam is by Alydar out of a full-sister to Bold Forbes. But again, there's a lot of speed there.Purge -- Impressive maiden winner at Saratoga, coming through a very narrow opening on the rail to win career debut by 4 lengths. Never flinched, despite tight quarters, and burst through like a seasoned pro. A son of Pulpit, he doesn't have a particularly strong distance pedigree on his female side, but despite his 4.14 DI, there is still enough there to suggest he can get the distance if he's talented enough. He had a small flake removed from his ankle after his debut and is back in training.Icy Atlantic -- Although he's only run once and is still a maiden, finishing fourth in his debut at Aqueduct, this definitely looks like a colt to keep an eye on. He raced very greenly, dropping way out of it. A lazy colt in the mornings, the light seemed to go on around the far turn and he made up a dozen lengths in the last three-eighths to be beaten 5 1/2 lengths in 1:10 4/5. He's by Storm Cat's son Stormy Atlantic, and has a ton of stamina in his female family. His broodmare sire, Frosty the Snowman, is by His Majesty and had brilliant speed over a distance of ground. And his maternal great-grandsire is Skip Trial. You have to love his 1.67 DI. Watch out for this one.Another Pletcher colt, Actaeon, looks to have ability, having broken his maiden big at Saratoga, but is heading to the grass for now after two subsequent defeats. He does have a pretty strong female family, but sire is Elusive Quality and he has a 4.33 DI.Mandella will head into 2004 with the one-two finishers of the Breeders' Cup Juvenile (gr. I), another talented stakes winner who has displaced his palate in his last two starts, and a brilliant amazon of a filly who no doubt will make many Derby lists this winter, regardless of whether Mandella says he's pointing her for the Derby or not.Action This Day -- Yes, the Juvenile was set up perfectly for him, and it wasn't a particularly strong field, but coming off a nose victory in a slowly run maiden race and making only his third career start, this colt ran a super race. Remember, he not only won, he blew by the entire field and was drawing off with every stride. Anyone who saw his maiden victory, and all he had to overcome to win, knew this colt was much better than he looked on paper. And listening to Mandella brag about him with such conviction was the final tipoff. Distance will be no problem. His grandsires, Roberto and Trempolino, accounted for the English Derby and Prix de l'Arc de Triomphe. He has a strong dosage profile of 5-4-21-2-0 and a 1.56 DI.Minister Eric -- Had excellent positiion in the Juvenile, but couldn't match strides with his stablemate down the stretch. Also failed to catch stablemate Siphonizer in the Del Mar Futurity. Not the running style one would expect from a son of Old Trieste. But remember, Old Trieste's broodmare sire is the late-running Vigors. Big names in his pedigree like A.P. Indy, Deputy Minister, and Mr. Prospector, but 1 1/4 miles still is a question mark. Handsome, striking colt, who should keep improving, but he'll have to overcome a 4.14 DI. Still not convinced he won't stretch out to longer distances.Siphonizer -- We won't know how good this colt is until he stops displacing his palate. Had a myectomy performed after the Juvenile, and the procedure has been known to produce excellent results. Only time will tell. Beat Minister Eric in the Del Mar Futurity (gr. II), and doesn't look like the kind of colt who is going to win off by big margins. Interesting dosage profile of 5-0-5-0-0, for a 3.00 DI. His sire, Siphon, had no trouble with 1 1/4 miles. Not many distance influences in his female family. His maternal great-grandsire, Riva Ridge, is not seen in too many pedigrees, but he did win the Derby and Belmont Stakes.Halfbridled -- We're not even going to suggest she may wind up on the Derby trail or even the Derby/Oaks trail. It's still way too early to tell where she'll be heading. Oaks, obviously, is the more likely goal. But, being she will be mentioned as Derby material on numerous occasions over the next few months, we'll list her and just see what happens. Also, she's such a big, powerful filly, she's more intimidating physically than most of the colts. And she proved she is something special with a brilliant undefeated campaign, capped off with a remarkable victory in the Breeders' Cup Juvenile Fillies (gr. I), in which she no doubt ran at least 1 1/8 miles, having to race very wide most of the way. Wherever she winds up, her presence will create a stir every time she steps foot on the track.An addition to our last report is Confirmed, another Nick Zito-trained colt, who ran horribly in his career debut, but came back to finish a solid second in a 1 1/16-mile maiden race at Keeneland. Owned by Tracy Farmer, he's another son of Unbridled's Song, and has a ton of stamina in his female family.Next time, in addition to Baffert and Sheikh Mo, we'll look at other potential Derby horses, including some Europeans, from Ballydoyle and Team Valor.



Copyright © 2015 The Blood-Horse, Inc. All Rights Reserved.