Kentucky Derby Trail: Zito Loaded For Bear
by Steve Haskin
Date Posted: 11/9/2003 8:58:25 PM
Last Updated: 2/13/2004 10:43:05 AM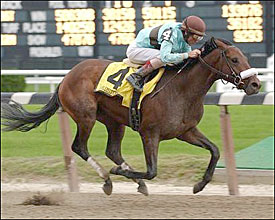 2004 Kentucky Derby contender Birdstone won the Champagne Stakes.
Photo: Adam Coglianese

This is the first in a series of early looks at next year's 3-year-olds and where they might stack up on the Kentucky Derby (gr. I) trail. Right now, it is Nick Zito, Richard Mandella, and Todd Pletcher who have the numbers.This first report will focus on Zito and his string of impressive stakes winners, along with several of his other promising colts who could make a name for themselves in the upcoming months.Zito is superstitious and doesn't want anyone putting the kibosh on him, so it's not wise to tell him he's sitting on a gold mine of potential 3-year-old riches. Zito is determined to return to the Derby with one or more live contenders after missing a couple of years, and is in the process of assembling quite a potent force."I'm trying not to get too excited," Zito said. "People ask me if I've mapped out a schedule yet. My only map right now is keeping them sound."Birdstone -- Provided Zito with his fourth Champagne Stakes (gr. I) victory in the past six years, and fourth in his last four tries. Zito would love nothing more than to win the Derby for Marylou Whitney, and in Birdstone, a half-brother to Kentucky Oaks (gr. I) and Acorn (gr. I) winner Bird Town, he has a talented colt who has more than enough stamina to get the 1 1/4 miles. By Derby winner Grindstone, a son of Unbridled, there is always a question of soundness, but if Zito can keep him together, there is no doubt he will be a top Derby contender. Birdstone is a complete outcross and has a strong 1.77 dosage index. But he is a May 16 foal and is not a big horse. He's known as "Little Man" around the barn. Zito says he will take into account Birdstone's size, late foaling date, and pedigree when it comes time to decide when and where to run the colt.Eurosilver -- This Buckram Oak Farm-owned colt turned in a devastating move to destroy his field in the Lane's End Breeders' Futurity (gr. II), while stretching out from an impressive 6 1/2-furlong maiden victory at Saratoga. He is by another son of Unbridled, Unbridled's Song, and while his tail-female line lacks any chef-de-race influences, his broodmare sire is Nijinsky II and his second dam, Brave Raj, was a top-class filly who ran away with the 1986 Breeders' Cup Juvenile Fillies (gr. I). He has a perfectly balanced dosage profile of 3-4-11-4-2, and a mouth-watering 1.09 dosage index. Unbridled's Song, however, has yet to sire a mile and a quarter horse, but many believe his ill-fated son Buddha was destined for great things after winning the nine-furlong Wood Memorial over Medaglia d'Oro. Eurosilver currently is recuperating from bucked shins.The Cliff's Edge -- Like Eurosilver at Keeneland, he inhaled his field in the Iroquois Stakes (gr. III) at Churchill Downs, coming from eighth and drawing off to win by 7 3/4 lengths. He also ran a bang-up race in the Kentucky Cup Juvenile (gr. II), breaking awkwardly, then making a big early move before finishing a close third. By Gulch, we'd like to see a bit more stamina in his female family to go with his sire, but he does have a strong broodmare sire in Danzig. Basically bred to be a 1 1/8-mile horse, but may have the talent to carry him farther. Dosage index of 4.00 is right on the border.El Prado Rob -- Heading to the Remsen Stakes (gr. II) after winning a 1 1/16-mile allowance race at Keeneland by 2 1/2 lengths. Also finished a well-beaten third in the Futurity Stakes (gr. I) behind the runaway winner, Cuvee. Strong distance pedigree on both sides, inbred 4x5 to Tom Fool. By El Prado, out of a Seeking the Gold mare, he has a good deal of Phipps blood in his female family, through Buckpasser and Reviewer. Dam is inbred 3x4 to Phipps foundation mare Broadway. You've got to love his dosage profile of 7-6-17-4-0 and 1.72 DI.Ghost Mountain -- Son of Silver Ghost, he's run five times, winning his last two starts, with his latest victory a four-length wire-to-wire romp in a seven-furlong Keeneland allowance race in 1:23 1/5. He has a pedigree that could stretch him out to 1 1/4 miles. Tail-female family is top-class Meadow Stable breeding, and his second dam is Gay Matelda, one of the best fillies of her generation. Gay Matelda's sire is the classy Sir Gaylord, a half-brother to Secretariat. Ghost Mountain's broodmare sire is the Seattle Slew stallion Tsunami Slew. He does have a number of speed (Brilliant) influences, which accounts for his 3.57 DI, but he still should be able to get the 1 1/4 miles if he's good enough.The last three horses have one thing in common. They're all owned by Robert La Penta, a former partner in Thoroughbreds with Rick Pitino who decided to venture out on his own a few years ago. But he felt that pinhooking was the way he wanted to go, at least in the beginning. The modus operandi was to buy yearlings at the Keeneland September sale, under the name Whitehorse Stable, and pinhook them the following winter in the Fasig-Tipton Florida 2-year-olds in training sale at Calder.The first year, Zito picked out eventual stakes winner Zavata at Keeneland for $170,000, and La Penta sold him the next year in Florida for $575,000 to Michael Tabor. Last year, Zito bought Pomeroy at Keeneland for only $45,000. This year, the colt was sold to Tabor for $300,000. He went on to finish first in the Kentucky Cup Juvenile only to be disqualified.In addition to Pomeroy, Zito had also bought La Penta The Cliff's Edge ($200,000), El Prado Rob ($70,000), and Ghost Mountain ($35,000) at Keeneland last September. Unlike Pomeroy, however, all three failed to meet their reserves at the 2-year-old sale this winter, and La Penta wound up keeping them. As a result, he has three potential contenders on the Derby trail."I have to give him credit for his integrity," Zito said of La Penta. "He had a plan and stuck to it. A lot of guys would have kept the good horses and pinhooked the others, but he sold good horses, which is why guys like Michael Tabor and Satish Sanan were interested in buying horses from him."Another yearling Zito bought for La Penta who failed to meet his reserve at Calder this year is Go Now. The son of Go for Gin finished a fast-closing third, beaten a length, in his career debut at Churchill Downs on Nov. 1. This colt is bred to run all day. He is inbred 4x5 to Ribot through His Majesty and Tom Rolfe, and his second dam is a half-sister to Belmont winner Coastal, by Secretariat. He has an unusually strong dosage profile of 8-4-14-2-4 and a 1.46 DI.Zito also has Buckram Oak's Fast Train, who could be a 3-year-old to watch down the road if he returns in top form after having a chip removed from his knee. The son of Roar took five starts to break his maiden, but he's improved with each race and was impressive winning a six-furlong maiden race at Keeneland by three lengths in 1:09 4/5. Fast Train's second dam, Lady Donna, is by Graustark, and Lady Donna's dam, Glorious Spring, is a full-sister to Roberto. So, this is pure Darby Dan stamina, much like Funny Cide's tail-female family. He is inbred 4x3 to Graustark and inbred three times to Ribot and Hail to Reason, which accounts for his 1.10 DI.It must be noted that, in addition to Eurosilver and Fast Train, Buckram Oak has Hopeful winner Silver Wagon with Ralph Ziadie and the impressive Churchill maiden winner Tiger Heart with Kenny McPeek.Zito has proven on numerous occasions he has one of the keenest eyes for a young horse of any horseman, having picked out countless yearlings for relatively cheap prices who went on to become top stakes winners, including 1994 Kentucky Derby winner Go for Gin ($150,000). This is the most ammunition Zito has ever had as he approaches the start of the 2004 Derby trail. If he can get lucky and keep them all sound, it should be an interesting and entertaining journey to Kentucky.



Copyright © 2015 The Blood-Horse, Inc. All Rights Reserved.