Keeneland Numbers Soar; Limelighter Brings $650,000
by Ron Mitchell
Date Posted: 11/6/2003 11:11:32 PM
Last Updated: 11/7/2003 7:41:19 PM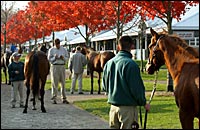 Horses scrutinized by prospective buyers at Keeneland.
Photo: Anne M. Eberhardt

The Keeneland November Breeding Stock Sale continued on its successful roll Thursday as the session average and median prices soared when compared with the same session one year ago. Not long after the fifth session begins Friday, the gross will eclipse the gross receipts for last year's entire 10-day sale.Thursday's top price of $650,000 was paid by John Sikura of Hill 'n' Dale Farm for Limelighter, a 3-year-old filly in foal to Silver Charm. Consigned by Craig Bandoroff's Denali Stud, the filly was produced from the stakes-winning Deputy Minister mare Miraloma, a half-sister to champion Gold Beauty.Keeneland reported 248 horses were sold Thursday for a gross of $20,863,000. Thursday's average price of $84,125 was up 44.4% over the session average of $63,212 in 2002. The session median price of $65,000 represented a 33.1% increase over the $45,000 median for the fourth session one year ago when 253 horses were sold for a gross of $15,992,700. The 66 horses that did not meet their reserve prices Thursday represented 21% of the total through the ring. The session RNA rate last year was 22.4%.Through the first four days of the auction, Keeneland has sold 854 horses for $186,404,000. The total gross in 2002 for the entire 10-day auction was $187,230,000. This year's cumulative average price of $218,272 is well ahead of the $174,292 figure through the same number of days last year and the $100,000 median so far this year exceeds the $83,500 median after four days in 2002. Through the same period one year ago, 866 horses had grossed $150,936,700"It's very impressive, especially the gain in the median price" Keeneland sales director Geoffrey Russell said. "There is still a lot of money that has not been spent. Buyers came in here with a very positive attitude. The buyers were on the muscle and were ready to buy when they came in here."Russell said the popularity of young stallions with weanlings offered in the sale, as well as strong demand by pinhookers who buy to resell, spiked the weanling market. "They are paying yearling prices for weanlings," Russell said.Two of the top four prices paid Thursday were for weanlings purchased by Mike Byrne. Byrne went to $400,000 to acquire a Grand Slam colt consigned by Justice Farm. The March 21, 2003 foal was produced from the Honey Jay mare Sheza Honey, a full sister to stakes winners and stakes producers Windy Mindy (dam of grade II winner Rob 'n Gin) and Beeline Babs.For $355,000 Byrne purchased a weanling colt sired by Point Given from the Denali consignment. The March 30, 2003 colt is out of the Crafty Prospector mare Crafty Queen, a half-sister to $3.5-million earner Spain.The session's third-highest price of $375,000 was paid by McKeever St, Lawrence for Nunatall, a grade III-winning daughter of Night Shift in foal to Chester House. The 4-year-old out of the Bering mare Nunatak was consigned by Mill Ridge Sales.One buyer and seller who echoed Russell's observation about the strength of the weanling market was Michael Hernon, sales director of Gainesway Farm. Hernon noted that some weanlings were withdrawn from the sale, apparently because they did not pass veterinary scrutiny, having the effect of driving up the prices for those going through the ring."People are less inclined to run weanlings through here if they have X-ray issues, because if you have to get into an explanation of what's there it is not a good position to be in," Hernon said. "So, they will just keep them and work on the minor problems and sell them next year. So that has fueled the fire of demand by limiting the number. It's the law of supply and demand."Hernon, who was acting as a consignor and a buyer, said the market was highly competitive for the fourth day of the auction. "There are a lot of active buyers, not just a few major buyers, and that is healthy. I think they are being spurred on by the tax adjustments in depreciation, which affects the broodmare market. Plus, the cost of money is really low right now, with the interest rates where they are, and people are getting small returns in the stock market. So, they are willing to take some chances with horses. It is a very competitive market."The sale in Lexington, Ky. continues daily through Nov. 13.Results, catalog, additional information from Keeneland



Copyright © 2015 The Blood-Horse, Inc. All Rights Reserved.