Paper Agrees Santos, Reporter Had Misunderstanding
Date Posted: 11/6/2003 8:52:07 AM
Last Updated: 11/6/2003 11:06:22 AM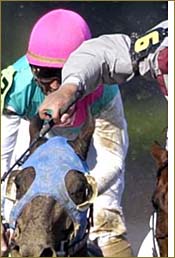 Photo of Jose Santos is similar to one published by the Miami Herald that provoked an investigation.
Photo: AP/Timothy D. Easley

The Miami Herald, in a short notice that appeared in its Nov. 1, edition, said a misunderstanding occurred between a writer and jockey Jose Santos in connection with a story that questioned whether Santos carried an electrical device in this year's Kentucky Derby (gr. I).A May 16 follow-up article titled "Photo Prompted Herald's Story on Kentucky Derby" recounted the controversy surrounding a finish-line photograph. Santos rode Funny Cide to victory in the Derby and later came under scrutiny when the Herald ran a photo and a story on its front page a week after the Derby. The Kentucky Racing Commission quickly investigated, and in a matter of days said Santos carried nothing but a whip in the race.Churchill Downs stewards had initiated the investigation based on the story and the photo, which was taken by Getty Images photographer Jamie Squire. Other photos taken at about the same time showed Santos had nothing in his hand except the whip."To some who saw the photograph, it appeared Santos may have held an object in his open hand," the Herald said in its Nov. 1 notice. "An investigation called by Kentucky Derby racing stewards, prompted strictly by the photograph, concluded that the jockey had nothing in his hand."The article said Santos and his attorney, Karen Murphy, blamed the controversy on a misunderstanding between Santos and Herald correspondent Frank Carlson that arose when Carlson questioned Santos on whether he held an object in his hand. The Herald reported that this misunderstanding occurred and agrees that Santos at no time admitted to holding any object. We apologize for that error."



Copyright © 2015 The Blood-Horse, Inc. All Rights Reserved.