Ward: Thoroughbred Industry Has Serious Work to Do
by Tom LaMarra
Date Posted: 11/5/2003 2:35:03 PM
Last Updated: 11/11/2003 10:28:39 AM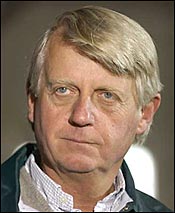 Outspoken trainer John Ward Jr.
Photo: Anne M. Eberhardt

The Thoroughbred industry will have to face the music and change its tune in the next few years if it is to flourish, trainer John Ward suggested during a lively discussion the evening of Nov. 4 at the monthly Kentucky Thoroughbred Farm Managers' Club meeting.Ward, president of the Kentucky Thoroughbred Owners and Breeders, was the guest speaker on a night when Kentucky elected a new governor in Republican Ernie Fletcher. The governor-elect didn't come out in favor of racetrack gaming but did say he would support a vote of the people via constitutional amendment.Ward isn't one to withhold opinions, and his comments at the farm managers' club were no exception. There were no sacred cows; in fact, a few were offered for sacrifice."I'm very involved in the cutting edge," said Ward, who won the 2001 Kentucky Derby (gr. I) with the colt Monarchos. "I like to be out in the middle of the chaos and ahead of where the industry is going to go. I like to look out five to 10 years and try to guess what's going to happen. If you listen carefully to what people say, they'll tell you where the business is going. I'm extremely sensitive to what owners and breeders have to say."In regard to alternative gaming, Ward predicted Kentucky "will face that issue next year, probably in the form of a constitutional amendment." He said it's the only way to go given situations in other states such as New York, where off-track betting parlors are now being considered as outlets for video lottery terminals."If we can do it with a constitutional amendment, not only can the people vote for what they want, but we will get guarantees -- hopefully -- where the machines will be and how they will be run," Ward said. "Whether we'll get it done or not, I don't know."Ward said VLTs could pump money into the state's breeders' awards program and allow for a new direction. He suggested something as simple as writing checks for a few thousand dollars to breeders when Kentucky-breds win their first race at any track."For the little farms, something like that would do a lot," Ward said. "It would keep smaller breeders in the business. We've got to change the way we do business."Ward also suggested an industry-wide re-balancing of purses. He floated the idea of front-loading purses for maiden special weight races and lowering purses for entry-level allowance conditions so owners could realize a quick return on investment. For instance, a maiden event would go for $80,000, and the allowance race for $25,000."The funding (for purses) can get deeper if the source of revenue gets better," Ward said. "That's where slot machines are going to help. Winning a purse barely covers the cost of an animal ... The funding mechanism in racing hasn't kept up with expenses."On the subject of medication, Ward said the work of the national Racing Medication and Testing Consortium is among the most important in the industry. He said he expects a recommendation for a uniform policy to be made by the consortium.Ward acknowledged there are medications that assist in training -- therapeutic substances and joint injections -- but he said they shouldn't be used on race day."There is no excuse for an animal to compete in a race with an unhealthy joint unless there is a chip in it," Ward said. "There are medications out there that help horses on a daily basis. They're great to train on, but if a horse needs a needle in its vein, except for (bleeder medications), that animal doesn't need to be competing in a race. Anti-inflammatory (drugs) are so strong now, (a 24-hour cutoff) is sufficient."Ward also touched on medication as it relates to the auction business. He said it's hard for trainers to purchase horses at sales, in part because the rules vary. There is no disclosure for yearling sales, yet 2-year-old in training sales have guidelines in place."These guys are getting hammered on both sides," Ward said. "A lot of trainers don't want to come to sales because they don't know what a horse has been given."Ward said that as a buyer, he seeks out individuals and organizations he trusts when it comes to raising horses. He said there are "too many ways to short-cut a horse and put racing careers in jeopardy," and also said he's against "mechanical manipulation" of horses' legs. Ward said if people insist on altering horses' conformation, they should be honest about it."If we're going to bring new people into the game -- the heavy money -- how can you look at an individual in good conscience and tell them you know everything about a horse's condition? That's somewhat laughable at this point. People with a lot of money don't like to be embarrassed ... they'll pack it up and go back to the stock market or go buy a yacht."People can do what they want to their own horses. All I'm saying is if you did (alter a horse's conformation) and someone asks, you have to tell them the truth. Otherwise, you'll wind up in a court of law for fraud. This is going to start happening."Ward also indicated conformation may be overrated when it comes to performance on the racetrack. "People don't realize it, but crooked horses run as fast or faster than the others," he said.Ward noted the first two days of the Keeneland November breeding stock sale produced "tremendous" prices for mares. "Why?" he asked. "I don't know. There's only a limited number of quality broodmares in the world today, yet people are breeding 190 mares to a stallion. How can a stallion have a quality book? We need to start looking at the percentages, such as the number of foals that were starters and the number of foals that were winners."Ward called on industry trade publications to print more statistics, and asked why they don't do so. "Is it because advertisers don't want them (published)?" he said.Here are some other observations offered by Ward at the meeting:--Five years from now, there will be five or six "major racing corporations or organizations" that will put pressure on owners and trainers to race at their facilities in exchange for various benefits. He said the pressure would be intense because of escalating costs tied to keeping a horse in training.--Racetracks will "find a way to make the participants of racing participate and not just use facilities to train." He said per-day stall fees are on the horizon at many facilities.--There will be cameras in every stall in every barn at racetracks.--The TV Games Network's success has come at the expense of on-track business. "TVG has definitely reduced attendance at racetracks," he said. "How do we counteract it, or do we want to counteract it?"--The structure of racing schedules needs to be changed. He said there are too many prep races, and often times similar events are carded within days of each other at different racetracks."The Breeders' Cup needs to be revisited," Ward said. "We've created an over-prepping situation for races. Our 2-year-olds are being prepped to death. The Breeders' Cup is becoming as boring as Super Bowl Sunday -- the horses are so tired they can't compete. We've also got to get the tracks to stop spending money competing against each other for the same 10 horses."Ward suggest prep races be carefully scheduled and perhaps rotated from track to track each year.--Industry organizations are beginning to bulge around the waist. "They need to cut the fat out and continue on the path," Ward said. "Some organizations are getting so big, they're getting off-center and going down the wrong path."During the meeting, the farm managers' club presented checks worth more than $80,000 to Central Kentucky organizations. Ward commented on the club's generosity and said it ranks among the best locally and perhaps nationally when it comes to community support.



Copyright © 2015 The Blood-Horse, Inc. All Rights Reserved.