Boosted by Thoroughbred Corporation Horses, Keeneland Numbers Soar
by Ron Mitchell
Date Posted: 11/5/2003 8:19:40 AM
Last Updated: 11/6/2003 6:00:37 PM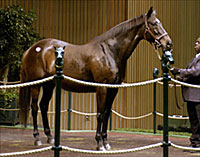 Windsharp, sold for $6.1 million.
Photo: Anne M. Eberhardt

When Johar finished in a dead-heat with High Chaparral for first in the John Deere Breeders' Cup Turf (gr. IT) on Oct. 25, it was one of the closest and most exciting races in the 20-year history of the Breeders' Cup and left racing fans buzzing for days. The excitement from that race extended into the sales ring during Tuesday's second session of the Keeneland November Breeding Stock in Lexington, Ky. as Windsharp, Johar's dam, brought a top bid of $6.1 million from agent John Ferguson, representing Sheikh Mohammed bin Rashid al Maktoum.Windsharp, also the dam of Del Mar Oaks (gr. I) winner Dessert, was consigned by Mill Ridge Sales, as agent for the estate of the late Saudi Prince Ahmed bin Salman. Salman, who operated a first-class breeding and racing operation under the name of The Thoroughbred Corporation, died last year.The Thoroughbred Corporation dispersal helped boost the Tuesday session well over the same session one year ago and also brought up the first two days of the sale.Keeneland reported 192 horses were sold Tuesday for a gross of $70,432,000. The average price of $366,833 represented a 25.9% increase over the $291,253 average for the same session one year ago when 182 horses grossed $53,008,000. This year's second session median was $192,500, well above the 2002 session median of $162,500. There were 58 horses that did not attain their reserve prices Tuesday, compared with 49 in 2002.Keeneland reported that during the first two unofficial "select" sessions of the sale, 366 horses were sold for a total $140,093,000, an average of $382,768 and a median of $190,000. There were 132 RNAs during the two sessions. For the comparable period one year ago, 368 horses had sold for a gross of $111,859,500, an average of $303,966 and a $167,500 median. There were a total of 99 RNAs during the first two days last year.Sales director Geoffrey Russell said the sale was obviously boosted by the Thoroughbred Corporation dispersal, but there were other factors leading to the increases. "Wonderful is a good word to describe" the sale, Russell said. "That the median price was up shows there was strength below the top (of the market). Young, attractive mares are selling very, very well. There were some that brought more than we thought they would and some that did not bring as much as we thought."Ferguson said the impact of the Thoroughbred Corporation was obvious, providing the sale with some of the best offerings he has seen in years."At the top end, I don't believe there has been a stronger sale in terms of 'grade A' mares in many years,' Ferguson said. "It is due to the unfortunate circumstances surrounding The Thoroughbred Corporation, but had it not been for those unfortunate circumstances, those mares would not be here. As a result of the Thoroughbred Corporation horses being here, it has given the whole market a lift. It was a very strong sale."The bidding on Windsharp, sold in foal to Gone West, opened at $1-million and increased steadily by $100,000 increments until the bidding came down to Ferguson and Ira Gumberg, representing Skara Glen Stables. A 12-year-old daughter of Lear Fan -- Yes She's Sharp (Sharpen Up), Windsharp herself was a champion on the track, earning $1,191,600."Sheikh Mohammed is delighted to have her," Ferguson said. "In Sheikh Mohammed's opinion, she was the complete package -- a champion who has produced a Breeders' Cup winner and another grade I winner. We expected her to make a good price. Sheikh Mohammed wanted to make sure he was on the phone (during the bidding).""That's the highest price for a horse we've ever sold," said Alice Chandler, who owns Mill Ridge with her husband, Dr. John Chandler. "We didn't expect her to bring that much. She pretty much had everything that anyone could want. She was as good as it gets."The sale of Windsharp was the highlight of a session in which consignments consisting of top-class fillies and mares in foal to America's leading sires attracted competitive bidding.Courtlandt Farm paid $3,150,000 for Purrfectly, a 9-year-old Storm Cat -- Perfect Example (by Far North) mare in foal to Unbridled's Song. The dam of Hollywood Breeders' Cup Oaks (gr. II) winner Santa Catarina, Purrfectly is a half-sister to European champion Culture Vulture.Courtlandt's Don Adam said he believed Purrfectly, consigned by Craig Bandoroff's Denali Stud, had the best pedigree of any mare offered in the sale and was second in overall quality only to Saudi Poetry (who was purchased by WinStar Farm for $2.2-million during Monday's first Ferguson paid $3.1-million for the Storm Cat mare Sharp Cat, the multiple grade I winner of 15 races who earned $2,032,575 who was in foal to Gone West. She was consigned by Mill Ridge Sales on behalf of the Salman estate. Produced from the Ack Ack mare In Neon, Sharp Cat is a half-sister to European group I winner Royal Anthem and grade III winner Star Recruit.David Plummer's ClassicStar operation was among the most active buyers, going to $2.4 million for Banshee Winds and $2 million to get Turko's Turn, the dam of Horse of the Year Point Given. Both were consigned by Mill Ridge Sales. The Thunder Gulch -- Turko's Turn weanling colt was reported sold to Chestnut Valley Farm for $800,000.The sale continues through Thursday, Nov. 13 with sessions beginning each day at 10 a.m. (ET)Top Prices -- 2nd Session
Price -- Hip No./Description/Consignor/Buyer
$6,100,000 -- 508/Windsharp, dark bay/brown mare/Mill Ridge Sales/John Ferguson
$3,150,000 -- 424/Purrfectly, bay mare/Denali Stud (Caig Bandoroff)/Courtlandt Farm
$3,100,000 -- 446/Sharp Cat, chestnut mare/Mill Ridge Sales/John Ferguson
$2,900,000 -- 639/Habibti, chestnut mare/Mill Ridge Sales/Shadwell Farm
$2,400,000 -- 533/Banshee Winds, dark bay/brown mare/Mill Ridge Sales/ClassicStar
$2,050,000 -- 418/Poetically, bay mare/Fred Seitz (Brookdale Farm)/B. Wayne Hughes
$2,000,000 -- 485/Turko's Turn, chestnut mare/Mill Ridge Sales/ClassicStar
$1,700,000 -- 518/Alexander Three D, bay mare/Eaton Sales/Castleton Group
$1,400,000 -- 619/chestnut filly, Storm Cat -- Garden Secrets/Eaton Sales/Brushwood Stable
$1,300,000 -- 470/Stylelistick, dark bay/brown mare/Denali Stud (Craig Bandoroff)/ClassicStar
$1,200,000 -- 561/Charm, chestnut mare/Mill Ridge Sales/Skara Glen Stables
$1,100,000 -- 426/Radiant Ring, dark bay/brown mare/Anderson Farms, agent for Sam-Son Farm/Jon KellyLeading Consignors -- Cumulative, First Two Sessions
Consignor -- Number of Head Sold -- Average -- Gross
1. Taylor Made Sales Agency –41 -- $574,414 -- $23,551,000
2. Mill Ridge Sales -- 21 -- 1,104,523 -- 23,195,000
3. Three Chimneys Sales -- 20 -- 935,750 -- 18,715,000
4. Denali Stud -- 17 -- 538,235 -- 9,150,000
5. Lane's End -- 23 -- 353,043 -- 8,120,000
6. Eaton Sales -- 23 -- 347,608 -- 7,995,000
7. Fred Seitz/Brookdale Farm -- 8 -- 670,625 -- 5,365,000
8. Hill 'n' Dale Sales Agency -- 10 -- 430,500 -- 4,305,000
9. Paramount Sales -- 20 -- 176,500 -- 3,530,000
10. Middlebrook Farm -- 2 -- 1,505,000 -- 3,010,000Leading Buyers -- Cumulative, First Two SessionsBuyer -- Number of Head Sold -- Average -- Gross
1. John Ferguson Bloodstock -- 5 -- $2,730,000 -- $13,650,000
2. ClassicStar LLC -- 12 -- $822,916 -- $9,875,000
3. John Magnier -- 2 -- $4,550,000 -- $9,100,000
4. Dromoland Farm -- 3 -- $2,603,333 -- $7,810,000
5. Shadwell Farm LLC -- 2 -- $3,150,000 -- $6,300,000
6. WinStar Farm, Agent -- 4 -- $1,087,500 -- $4,350,000
7. Dell Ridge Farm -- 4 -- $797,500 -- $3,190,000
8. Courtlandt Farm -- 1 -- $3,150,000 -- $3,150,000
9. Aaron U. Jones & Marie D. Jones -- 1 -- $2,900,000 -- $2,900,000
10. B. Wayne Hughes -- 4 -- $718,750 -- $2,875,000



Copyright © 2015 The Blood-Horse, Inc. All Rights Reserved.