Classic Recap: One Perfect Day
by Steve Haskin
Date Posted: 10/29/2003 3:59:04 PM
Last Updated: 10/29/2003 7:04:02 PM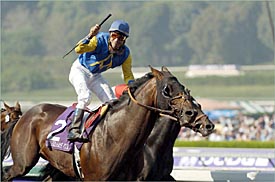 Pleasantly Perfect capped a perfect day for trainer Richard Mandella with his stunning Classic victory.
Photo: Mike Corrado

The San Gabriel Mountains could barely be seen against the black morning sky. Then, just before 5:30, a fiery glow appeared, illuminating the peaks off to the east. As in 1993, raging fires had broken out near Santa Anita, although these were some 40 miles away. Inside Barn 4, trainer Richard Mandella had other things on his mind. He sat down at his desk, with two black and white kittens curled up between him and the back of his chair. He finally had time to handicap the four Breeders' Cup World Thoroughbred Championships races in which he had horses entered. Confident all would run well, Mandella still had no idea that in a few hours, he would ignite a fire of his own that will never be extinguished. Awaiting him were an unprecedented four Breeders' Cup victories, topping his remarkable day 10 years ago at Santa Anita, in which he won two Breeders' Cup races, as well as a pair of undercard stakes. Not only would he win four Breeders' Cup races, he'd do so for four different owners. Outside Mandella's office, the imposing 2-year-old filly Halfbridled, the undefeated morning line favorite for the Juvenile Fillies (gr. I), walked the shed. Right behind her was the big, powerful 5-year-old Pleasantly Perfect, who would close out Mandella's day in the Breeders' Cup Classic - Powered by Dodge (gr. I). Mandella's son, Gary, stood outside the office watching them and was amazed at the size and strength of Pleasantly Perfect. "Look at him; he's a dinosaur," Gary Mandella said. "God sakes, just look at him. He's massive. But he's the nicest horse in the world. You can take a nap with him in his stall and he'd just lay there with you; it wouldn't bother him at all." Gary, a longtime assistant to his father, now had 22 horses of his own at Hollywood Park, and would be saddling Gold Sphinx in the last race of the day, a one-mile allowance event on the grass. With post time for the first race scheduled for 9:40 a.m., the elder Mandella had already shaved and would soon change clothes in one of the grooms' quarters. There was a calmness and assurance about him, similar to a general preparing for battle knowing he had superior forces and artillery. His wife, Randi, said he'd been sleeping well at nights, which was not always the case before big races. Mandella opened the Daily Racing Form and he and Gary began handicapping the races for the first time. When he got to the Classic, he was particularly interested in the pace scenario, with Pleasantly Perfect being a come-from-behind horse and needing a stiff, honest pace. "OK, let's see, Evening Attire, he lays far back," Mandella said. "Volponi lays back a little, but was up there in last year's Classic. Funny Cide, it didn't do any good to rate him like that; he should be in the first three. Hold That Tiger was up there in the Woodward (gr. I), but the fractions weren't that fast. Dynever doesn't have much speed. Perfect Drift's been running slow fractions. Medaglia d'Oro, he'll be on the lead or second. Congaree's got good speed. Ten Most Wanted has turned into a real good horse. So, it looks like there'll be three or four horses who will be sitting right there. I could give my jockey a little pea shooter and have him peck 'em in the (butt) first time around. Make 'em pull a little bit." Mandella did not appreciate several published comments that this was an inferior Classic, due to the defections of Mineshaft, Candy Ride, and Empire Maker. "I don't understand how they can say that," he said. "You've got the winners of the (grade I) Kentucky Derby and Preakness, Travers, Whitney, Jockey Club Gold Cup, Hollywood Gold Cup, and Breeders' Cup Classic. How can they say that's a bad field?" After handicapping the races, Mandella called to assistant trainer Becky Witzman and had her put Pleasantly Perfect's legs in an ice tub, as well as keeping them in ice boots. The colt had bruised a bone in his foot over the summer, and Mandella was covering all bases. Finally, it was time for Mandella to start getting ready. Everything was in motion for one of the greatest training achievements of all time. Every minute detail had been accounted for. "I'm excited," he said. "But it's tough getting those wins. Nothing left to do now but put 'em in there and let 'em roll." And roll they did, right into history. Among those who accompanied him were jockey Alex Solis, who had scored his 4,000th career victory the day before, and owner Gerald Ford, who began racing Thoroughbreds in 1995 under the name Diamond A Racing Corp. With Mandella's help in 2000, Ford purchased 815 acres of the former Brookside Farm, owned by the late Allen Paulson, for a little over $11 million, renaming it Diamond A Farms. One of their horse purchases was a son of Pleasant Colony out of the Affirmed mare Regal State whom they had bought at the 1999 Keeneland September yearling sale for $725,000. Named Pleasantly Perfect, the colt would be plagued by a series of bizarre setbacks. At two, after being broken at Calumet Farm, Pleasantly Perfect was sent to Mandella at Hollywood Park with some heavy baggage. "They complained that he wouldn't get fit," Mandella said. "He just wouldn't show any improvement." When he continued not showing improvement, veterinarian Rick Arthur checked him out and could tell right away something wasn't right. Mandella said every time the colt would gallop, he'd return as if he'd just run 10 miles and his heart rate would go down. He was sent to San Luis Rey Equine Hospital, where it was discovered he had contracted a virus that had settled around his heart sac, inflaming the heart. When Mandella got the colt back, he ran him in a 11/16-mile maiden race on the grass and Pleasantly Perfect was eased. He still was suffering the effects of his virus. The next day he was sick and Mandella sent him to one of the nearby farms he uses. He stayed for about five months. It wasn't until January of his 4-year-old campaign that Mandella was able to run him in a maiden race at Santa Anita, in which he finished second. He broke his maiden in February, and later won two more races, which set him up for his first stakes appearance, the 2002 Pacific Classic (gr. I). He circled the field out in the middle of the track and rallied to finish fourth, beaten 23/4 lengths. When he came back and turned in one of the most breathtaking performances of the year, winning the Goodwood Breeders' Cup Handicap (gr. II) by 31/4 lengths in 1:46.80, Mandella felt he had a big chance in the Breeders' Cup Classic. Continued...



Copyright © 2015 The Blood-Horse, Inc. All Rights Reserved.