Facilities Take in Horses as California Wildfires Rage
by Margaret Ransom
Date Posted: 10/28/2003 3:27:35 PM
Last Updated: 10/30/2003 11:23:22 AM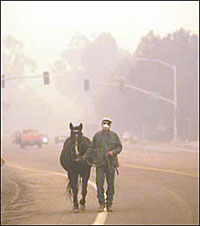 Joe Matyas walks his horse, Bart, to safety amidst a heavy cloud of smoke as out of control wildfires also threaten the safety of the Southern California horse population.
Photo: AP/Lenny Ignelzi

Despite the nine massive wildfires that have charred nearly 500,000 acres and continue to burn in Southern California, only one Thoroughbred farm was reported to have suffered any damage, and it was considered minor, according to Dawn Gerber of the California Thoroughbred Breeders' Association. At Golden Eagle Farm in Ramona, which is closest to the state's largest blaze, the Cedar fire in San Diego County, only an adjacent property in the western area of Ramona was ever seriously threatened and suffered only minor damage. Gerber said a Golden Eagle official communicated to her that all horses on the property were evacuated safely to the main Golden Eagle farm site and only some small buildings burned.Rancho Paseana, located about 40 miles from Golden Eagle, was safe from the fires that shifted direction away from the farm thanks to the dying Santa Ana winds. The area is still being affected by a tremendous amount of falling ash and smoke, according to a farm representative, but has opened its doors as a rescue facility for any owners in the area needing a place to temporarily board their horses due to evacuations.Several other farms throughout the state have also offered to serve as a safe haven for horses that have been evacuated. Circle H Farms in Murietta indicated to Gerber they can house up to 100 outside horses until the fires are contained, while Eagle Oaks in Paso Robles can receive up to 50 animals. Gerber also indicated the several farms in Temecula are currently safe, as are the Riverside County locations affected by the giant Grand Prix fire.Additionally, the Del Mar racetrack has been and will continue to provide shelter for any evacuated horses and other large livestock until such time as it becomes safe for them to return to their own facilities. Currently, there are approximately 600 animals on site that are being cared for by dozens of local volunteers. More than 200 of the horses are unclaimed strays.Through late Oct. 27, less than 25% of the area's two larger fires have been contained. The blistering heat that has affected the area for the better part of the last two weeks is expected to cool off by mid-week, which should help firefighters tackling the blazes. There is no rain in the forecast.President Bush declared the lower half of the state as an emergency area, making many residents eligible for aid and low-interest loans. For more information or to locate a temporary evacuation facility, contact the CTBA at (626) 445-7800.



Copyright © 2015 The Blood-Horse, Inc. All Rights Reserved.