Steve Haskin's Longshot Specials
by Steve Haskin
Date Posted: 10/24/2003 5:29:53 PM
Last Updated: 10/25/2003 12:50:55 AM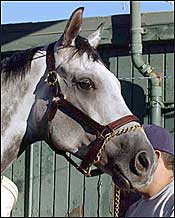 Evening Attire, among Haskin's longshots to watch.
Photo: Anne M. Eberhardt

As in past Breeders' Cups, there are longshots galore in this year's World Thoroughbred Championships. Finding them, however, is another matter. This year, the task will be more challenging than usual.CLASSIC: This is one of the most perplexing races we've ever handicapped, with a strong combination of tough, brilliant older horses and vastly improving 3-year-olds, including one from Europe. After watching most of these horses train over the course of the week and studying their form, we cannot separate Medaglia d'Oro, Perfect Drift, Congaree, and Ten Most Wanted, who will be the four top choices.Medaglia d'Oro and Congaree are coming off flawless works, and both look to be at their ultimate peak physically. Perfect Drift arrived on Thursday and did not go to the track Friday morning, so there is little to go by other than the fact that he has forgotten how to lose on the dirt. All we can say about Ten Most Wanted is, if there is a more magnificent-looking horse on the grounds we sure haven't seen him. We thought he looked sensational before the Kentucky Derby (gr. I), but he is now a sight to behold. One woman watching him school in the paddock said she got goose bumps looking at him. So, if you already like any of these horses, you should not have any concerns.But we're here to pick longshots. Even here, there are several appealing horses, depending on how the scenario of the race unfolds. If the top speed horses and stalkers, like Medaglia d'Oro, Congaree, and Funny Cide hook up in a hot pace, Evening Attire and Pleasantly Perfect will move up considerably. Pleasantly Perfect showed he has bounced out of his hard-fought comeback race in the Goodwood in great shape by turning in a pair of monster 5-furlong works. The last one, in :57 4/5, was deceiving in that the track was exceptionally fast, and the colt came back without even taking a deep breath. He is a big, strong horse who will appreciate the added distance and he could mow them all down in the fthe stretch.We are going to automatically put a bet on Volponi for old times sake. Of course, he's not the live, overlooked horse he was last year, with all the betting angles, but this hard-knocking horse still is capable of beating anyone on any given day, despite not having won a race all year. He won't be 43-1 again, but he will be a big price. He gets blinkers back on and Santos back on; he'll move up going a 1 1/4 miles; he has run strong seconds to Mineshaft and Medaglia d'Oro; he has run a minus-3/4 on the Ragozin Sheets this year in the Whitney, and a repeat of that performance would make him a legitimate contender.And now for our two longshot specials. We started liking Dynever a couple of weeks ago, but he has since become a buzz horse, and it seems as if his name is popping up everywhere. Whether that's a good sign or not we have no idea. But there's a good chance he won't be the overlooked horse we originally thought. While his appeal has diminished because of that, we still have to recommend him. Normally, we don't like 3-year-olds in the Classic unless the older horse contingent appears weak or over the top, neither of which is the case this year. But for a huge price (or what we once thought to be a huge price), this colt intrigues us. He has the right running style, he looks like a million dollars, and seems to ready for a peak effort, coming off the Meadowlands Cup (gr. II) against older horses, in which he was giving weight to the winner. He also has run a pair of "1's" this year, which puts him right up there from a speed standpoint. Also, with his pedigree, he'll relish the 1 1/4 miles. The big question with him, and the other 3-year-olds, is whether they're classy enough to handle this bunch of older horses. There's no way of knowing, which makes him more of a guess than picking a horse like Volponi last year. But this is a very talented horse who should develop into a major 4-year-old next year.Finally, we come to our make or break horse, who could win or finish up the track. That's because you never know how the Europeans are going to handle the heat and the hard, fast track that is likely tomorrow. But if you're willing to take the gamble, we feel Hold That Tiger is sitting on a big effort. He's been to the track for three days and has made major leaps forward each day. He's shown great physical improvement since we saw him at Belmont in early September when he put up a magnificent effort against Mineshaft, running a "1" in the Woodward and a minus-1/2 on ThoroGraph. And he galloped out very strongly in that race, run in a blistering 1:46 1/5. This morning, he galloped around, then blew out two furlongs, and was really rolling, hugging the rail and striding out beautifully. He was still dry as he came bouncing off the track and wasn't blowing at all.Whether that all equates to him knocking off this kind of field is anyone's guess. But if you're totally bewildered by the race and are looking for a different type of alternative, this colt colt surprise a lot of people.The only longshot that is less of a guess is Pleasantly Perfect, and he is the one you don't want to leave out of your exotics.MILE: Although we've seen to many live-looking Woodbine-based horses come down here and fail, we're still intrigued by Soaring Free, even though there is no guarantee he's capable of winning this kind of race going a mile, a distance over which he has never won. But this Sam-Son gelding does like to win and was narrowly beaten in the Atto Mile (Can-IT) by Touch of the Blues. In the Shadwell Mile (gr. IT), he hit the front oo soon and finished fourth, beaten more than 2 lengths by Perfect Soul, whom he had finished of in the Atto MileAlso, there isn't a lot of pure speed in the race, and a change of tactics with Special Ring, back to his front-running style, could easily result in a wire-to-wire victory by the 6-year-old gelding. Watch the price and see how much the bettors forgive him for his last start.SPRINT: This is a total crapshoot, if Aldebaran is compromised by the distance and track. Two intriguing horses are Valid Video and Ethan Man. Both are capable of winning this at a good price, but don't invest too much on this race. It's a killer.FILLY & MARE TURF: This is the toughest race on the card, as anyone in the field can win without being much of a surprise. This is another crapshoot, but for a big price, we'll go with Yesterday, who has had her share of bad luck this year, and in our opinion, she was the best horse in the Prix de l'Opera, in which she had to check when a hole closed. She then was taken back and steered very wide, where she proceeded to come flying down the stretch, losing by a head right on the wire. She defeated eventual group/grade I winners Six Perfections and Dimitrova in the Irish One Thousand Guineas (Ire-I) before finishing a hard-luck second in the English Oaks (Eng-I), in which she was beaten a neck. JUVENILE: With Cuvee, who is the best horse in the field, drawn outside, we're going to take a stab on the Wayne Lukas-trained Race For Glory, who ran a sensational race in the Cavonnier Stakes. Although it was for Cal-breds, this was a very impressive race both from a figure and visual aspect. He's a good-looking colt by Cape Town, the sire of Kentucky Oaks (gr. I) and Acorn (gr. I) winner Bird town.Another colt to watch, maybe more for the future than here, is Action This Day, who bobbled at the break in a 1 1/16-mile maiden race, then made an eye-catching move from last, showing brilliant acceleration. He then got squeezed between horses and bumped, but still kept coming to win in a very game effort. His numbers are slow, and this race may be a bit out of his league right now, but don't be surprised to see him come flying late and pick up a piece of it...and possibly more.



Copyright © 2015 The Blood-Horse, Inc. All Rights Reserved.