Classic Report: Funny Cide Heads New York Invaders
by Steve Haskin
Date Posted: 10/23/2003 6:30:52 PM
Last Updated: 10/30/2003 11:37:40 AM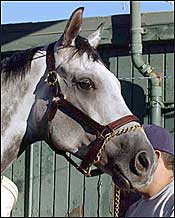 Evening Attire, New York-based Classic contender.
Photo: Anne M. Eberhardt

It was 34 degrees in New York Thursday morning. The three New York-based horses for the Breeders' Cup Classic – Powered by Dodge (gr. I) – Funny Cide, Volponi, and Evening Attire -- were a bit warmer as they tried to acclimate to the unusually hot weather in Southern California.Funny Cide, winner of the Kentucky Derby (gr. I) and Preakness, just walked the shed this morning, then laid down for a short nap before heading to the paddock to be schooled.This was the best we've ever seen the gelding look. He appeared extremely fit, and his coat was bright and well dappled. He was very relaxed walking around the ring and the saddling area, but as is his habit, he kicked repeatedly while in the saddling stall. As he walked around, he kept looking at all the photographers and cameramen lined up along the railing, which is something he obviously has gotten used to seeing in his travels."He traveled great," assistant trainer Robin Smullen said. "A lot of horses on the flight got stirred up, but he never turned a hair. I realize this is a tough spot for him, but he's never trained any better. The choice was between this and the Empire Classic (for New York-breds), and that race didn't suit him, going a mile and an eighth around one-turn against Dick Dutrow's horse (Well Fancied). The chances are we would have killed each other off and set it up for Gander. So between the two, we chose the Classic after the horse worked sensationally over the training track. We felt we might as well go for the $4 million."Smullen admitted that the first choice for Funny Cide's return was the Discovery Handicap (gr. III), which was to be used as a prep for the Cigar Mile (gr. I).Smullen said trainer Barclay Tagg will not arrive until late morning on Friday.Funny Cide has been the subject of discussion recently regarding his chances in the Classic, coming off a 12-week layoff. "We feel he's earned the right to be here," said Sackatoga Stable partner Dave Mahan. "It's a lot of money for us to put up to enter, but the $120,000 is in the bank, and he's the one who put it there. He's doing so good now, don't be surprised if he wins this."Evening Attire was out before 7 a.m. for his first feel of the track, with trainer Pat Kelly looking on from the grandstand. The big question regarding the horse is how the fast, normally speed-favoring Santa Anita track will affect the late-running son of Black Tue Affair.."Everything is against him, with the track and the hot, dry weather, but he's been doing so well and he has the right disposition that we decided to do this," Kelly said.P.G. Johnson sent Volponi out for an easy jog this morning. The son of Cryptoclearance has held his flesh well, and Johnson is hoping for one more big race before he is retired to stud next year. What better way to end his career than with a repeat victory in America's richest race.Volponi came out his last start, the Meadowlands Cup (gr. II), a bit banged up after getting plowed into at the start. He suffered abrasions on his front legs, and kicked himself in his rear hock. He also jammed his shoulder and had difficulty turning his head. Acupuncture helped immensely, and for physical therapy, assistant trainer Ocala Cedano stands on the horse's side holding a carrot and forcing him to reach back for it. Johnson said he's been doing that for years. Volponi apparently has responded to the treatment, and Johnson said he's now perfect.One horse who seems to have captured the attention of several of the experts is Dynever. Although the son of Dynaformer is only a 3-year-old, he is improving at the right time. Always an attractive colt, he has matured physically and, like Funny Code, has never looked better. Although he should be a big longshot in the Classic, don't be surprised to see him take a good deal of late action. He definitely will be one of the horses we discuss in tomorrow's column on finding the live longshots.Congaree continues to turn in strong gallops, and there is no reason to believe he is not sitting on a huge race. His 6-furlong workout in 1:11 1/5 on Sunday was as good as it gets.But for sheer looks and power, there is no Classic horse on the grounds who is more striking and imposing that Ten Most Wanted, who arrived from his home base at Hollywood Park yesterday. He looked super galloping this morning, showing of those long, powerful strides. "What a horse!" trainer Wally Dollase said from atop the pony, as the colt walked around the paddock walking ring after his gallop. "He never turned a hair. I'm the one who's sweating."Hold That Tiger went to the track at 7 a.m., an hour earlier than yesterday to beat the heat, and he stayed cool, calm, and dry, as he turned in a good gallop.Although it sounds repetitive to report how good many of these Classic horses look terrific, but the truth is, they do, which makes the race even more perplexing. With that said, Pleasantly Perfect continues to impress, not only in his works, but in his gallops.Medaglia d'Oro, the morning line favorite, was expected to arrive from Hollywood Park this morning after training hours, along with Bobby Frankel's other Breeders' Cup starters.



Copyright © 2015 The Blood-Horse, Inc. All Rights Reserved.