Haskin's Classic Report: Baffert Counting Down the Days
by Steve Haskin
Date Posted: 10/21/2003 2:52:30 PM
Last Updated: 10/22/2003 2:58:23 PM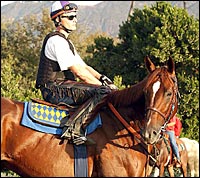 Congaree has trainer Bob Baffert eager for the Classic.
Photo: Anne M. Eberhardt

Bob Baffert wishes the Breeders' Cup Classic – Powered by Dodge (gr. I) was tomorrow. Make that today. The $4-million dollar race can't come too soon for Baffert, who says Congaree is doing super after suffering a quarter crack last week.But Baffert acknowledges that a quarter crack can take a sudden turn for the worse, and after Congaree's "awesome" six-furlong work in 1:11 1/5 on Sunday, Baffert feels the colt is ready for a monster effort."He's doing great, he's perfectly sound, and the quarter crack is not bothering him at all," Baffert said. "But he still has one, and things can change very quickly, which is why I wish the race was now."I'm just glad to have gotten this far. You won't see a better work than that sucker worked (Sunday). Let me tell you, this is a good horse."When asked if he feels Congaree is not receiving the respect he deserves, Baffert replied, "He gets a lot of respect from the racing secretaries, who give him high weight wherever he goes. They weight him as if he was the Horse of the Year for the past three years. Finally he gets to run at equal weights against these horses."Baffert said the Kentucky Cup Classic (gr. II), in which he was second to Perfect Drift, was merely a prep race, and he deliberately under-trained the horse, because he was afraid to do too much with him at Del Mar. With Perfect Drift supposedly passing the race, Baffert felt he could get away with training him lightly."I didn't know that Perfect Drift was going to run," Baffert said. "They said they were pointing for the Hawthorne Gold Cup (gr. II), and then changed their mind. And we wound up giving him four pounds. Then he broke badly and (Edgar Prado) slowed him down and let Perfect Drift sit right off him. He's 100% now, and looks great, and if we can get lucky with the quarter crack he's going to run a big race."Congaree has won four of his seven starts this year, winning the San Pasqual (gr. II) and San Antonio (gr. II) Handicaps at Santa Anita, the Carter Handicap (gr. I) at Aqueduct, and the Hollywood Gold Cup (gr. I). Baffert takes full blame for the colt's sixth-place finish in the Metropolitan Handicap (gr. I), saying Congaree was not at his best, and he never should have run him. Congaree wound up going head and head with the brilliant Najran in the slop in suicidal fractions of :44 2/5 and 1:08 3/5.In other Classic developments, Dynever was expected to arrive Tuesday, with Funny Cide, Evening Attire, and Volponi are scheduled to arrive from New York late Wednesday afternoon. Perfect Drift will arrive on Thursday from Louisville, Ky. Hold That Tiger, trained by Aidan O'Brien, is already on the grounds and is expected to go to the track for the first time Wednesday.



Copyright © 2015 The Blood-Horse, Inc. All Rights Reserved.