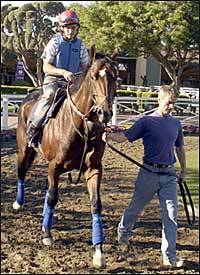 Last year, Oasis Dream won the Middle Park Stakes (Eng-I) at Newmarket and Gosden made plans to run him this spring in the French 2,000 Guineas (Fr-I)."He was very impressive in the Middle Park," Gosden said. "The course there has an uphill finish and he was very strong at the finish."
Over the winter, however, Oasis Dream did not progress as Gosden would have liked."He was a little long in his coat...he, like several others in my yard, was not blossoming."Gosden decided to run Oasis Dream in the King's Stand Stakes (Eng-II), but felt he didn't have his runner fit enough. He ran third, but returned in July to win the July Cup at Newmarket.Oasis Dream followed up that victory with a win in the Nunthorpe Stakes (Eng-I), and then ran second Sept. 6 in the Haydock Park Sprint Cup (Eng-I).The thing about Oasis Dream's races is they have all been five and six-furlong sprints. Now, Gosden must see if he can stretch him out to win at a mile."He has stamina on his dam's side," Gosden said of the colt out of the Dancing Brave mare Hope. "You need some speed and I'm bringing a relatively fresh horse."He has horses on his dam's side that have run a mile and a quarter and a mile and a half. But when you see him, you will see that he has the build of a speed horse."Before Gosden and Hughes walked the course, the two were standing in a clubhouse box with former jockey Chris McCarron, now the vice president and general manager of Santa Anita."Chris rode a lot of winners for me when I trained here," Gosden said. "I was just asking him how the course was, how it was playing."
As he and Hughes walked the course, Gosden was concerned about only one thing -- the post position draw on Wednesday."I think he will come away from there (break from the gate) well, but the post draw would appear to be very important in this race.""Lure broke from the 12 and won the Mile here in 1993," Gosden was told."Yes, well he was a very good horse," the trainer said, smiling and walking away.