McCarron: Watching Cup at Santa Anita Won't Be Easy
by Tom LaMarra
Date Posted: 10/21/2003 10:01:19 AM
Last Updated: 10/21/2003 2:26:20 PM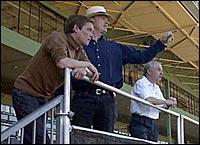 Retired jockey Chris McCarron, far right, with jockey Richard Hughes, left, and trainer John Gosden, center.
Photo: Anne M. Eberhardt

Chris McCarron has won nine Breeders' Cup World Thoroughbred Championships races, including five wins in the Breeders' Cup Classic – Powered by Dodge (gr. I). That's the most of any other jockey, and his 101 Cup starters put him second on the list.This year, the retired Hall of Fame rider will watch a California Breeders' Cup from the front side of Santa Anita Park, where he serves as general manager. And it won't be easy."I'll miss being out on the track," McCarron said the morning of Oct. 20 at Santa Anita. "I had planned on going to Arlington Park last year for the Breeders' Cup, but I canceled my trip because I didn't think I could stomach not being out there."McCarron retired about 1½ years ago, and earlier this year was named general manager of Santa Anita. He went out with a bang, having won the 2000 and 2001 editions of the Classic with California-bred Tiznow.McCarron, a regular at Santa Anita during his long riding career, said he has learned a lot in his new role. He said he still is in learning mode."It's a challenge for me," said McCarron, who spent the early part of his retirement from riding working on the Seabiscuit movie. There's so much to learn in only a short period of time. There already was a terrific management team in place. I'm at a loss for words because it's such a new experience."McCarron said when he was a rider, he answered to the horses, the public, owners, and trainers, but now, "there are countless other responsibilities involved. There's a lot more responsibilities, a lot more than I ever had before."One of McCarron's objectives is to promote the stars of the sport. Majestic Santa Anita, located in the Los Angeles metropolitan area, provides a strong stage."I want to see if I can take advantage of the opportunity to better promote the stars of the sport -- the riders, trainers, and even the owners, if they want to strut their stuff in front of the public," McCarron said. "Selling the horse is one thing, but it's hard to get the public completely acquainted with them because their careers are so fleeting. We need to do a better job at bringing them closer to the public."McCarron never won a Breeders' Cup race at Santa Anita or Hollywood Park, the two California tracks that have hosted the World Thoroughbred Championships. His first Cup win came in the 1985 Sprint (gr. I) aboard Precisionist at Aqueduct in New York. Aside from Tiznow, McCarron has won the Classic with Alphabet Soup (1996), Alysheba (1988), and Sunday Silence (1989).



Copyright © 2015 The Blood-Horse, Inc. All Rights Reserved.